Spice of life - Spectrum of Homeopathy 01/2016
Walter Glück: Sweating, Coughing, hoarseness
Using case histories, the author shows the organotropic affinity of sage for the lung and peppermint for the larynx. The symptoms of his remedy proving of Salvia officinalis correspond to the picture of a tubercular patient with weakness and coughing, as well as night sweats. Mentha piperita, on the other hand, has proved useful as an acute remedy for voice problems in singers and public speakers. The mind symptoms of the two remedies differ markedly. The irritability and negativity of Salvia contrasts with the upbeat mood and hectic nervousness of Mentha piperita.
keywords: coughing, hoarseness, Lamiaceae, Mentha piperita, perspiration, pneumonia, Salvia officinalis, voice
Walter Glück: Sweating, Coughing, hoarseness

Spice of life - Spectrum of Homeopathy 01/2016
Walter Glück: Sweating, Coughing, hoarseness

Using case histories, the author shows the organotropic affinity of sage for the lung and peppermint for the larynx. The symptoms of his remedy proving of Salvia officinalis correspond to the picture of a tubercular patient with weakness and coughing, as well as night sweats. Mentha piperita, on the other hand, has proved useful as an acute remedy for voice problems in singers and public speakers. The mind symptoms of the two remedies differ markedly. The irritability and negativity of Salvia contrasts with the upbeat mood and hectic nervousness of Mentha piperita.

keywords: coughing, hoarseness, Lamiaceae, Mentha piperita, perspiration, pneumonia, Salvia officinalis, voice
---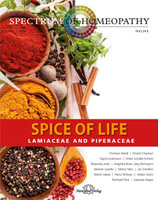 plus shipment:
2,90 EUR per Issue
Overview of this edition of spectrum homeopathy