Spice of life - Spectrum of Homeopathy 01/2016

Lamiaceae and Piperaceae

Herbs and spices, such as rosemary, oregano, sage, and especially pepper can make even the most boring food attractive, exciting, and lively. Enthusiasm and a lust for life, the desire for enjoyment and stimulation, as well as the fear of boredom are therefore typical characteristics in the remedy picture of the plants presented in this issue of SPECTRUM "Spice of life". Our authors show the overlaps and differences in the homeopathically similar but botanically very different families of the Lamiaceae and Piperaceae. The contributions in this SPECTRUM present the application of Jan Scholten's Plant theory, Rajan Sankaran's vital sensation and miasms, and Michal Yakir's ideas on the developmental stages of the plants.

Intrigued by the fascinating theme, Jan Scholten and Michal Yakir agreed to make a personal contribution. This issue of SPECTRUM has therefore the pleasure to chronicle the latest and exciting developments in homeopathic classifications.

In his overview, Jan Scholten explains the significance of the remedy codes and how to use them to navigate his Plant system. With co-author Martin Jakob, he exclusively presents a fine-tuning of his Plant theory. His classification of the Lamiaceae into the subfamilies, Lamioideae and Nepetoideae reveals the fundamental significance of his application of phases and subphases.

Michal Yakir describes her views on the evolution of plants and the their relationship to the development of female and male aspects of human individuation.

Angelika Bolte and Jörg Wichmann marry Sankaran's sensation method with the classifications used in Yakir's theory of plant evolution, creatively applying the resulting combination to their sketch of the disparities between the Piperaceae and the Lamiaceae.

Bhawisha Joshi, Sigrid Lindemann and Dinesh Chauhan, three representatives of Sankaran's sensation method, show how it is possible to differentiate these remedy families, which have a very similar sensation.

This issue features two new Lamiaceae provings, Thyme and Ground ivy. For his informative overview of the king of the spices, Christian Weidl proved some unknown Pepper remedies himself, complementing his homeopathic knowledge with insights from Ayurveda, folk medicine, and cultural history.

This issue of SPECTRUM offers entertaining stimulation, a wealth of inducements to find unknown paths to the simillimum, and many ways to comprehend innovative ideas and apply them in practice. So, no chance of boredom here!

For the first time, you will find two titles on the cover page of this issue of SPECTRUM. The spicy materia medica theme of the Lamiaceae and Piperaceae is indeed complemented by a lively presentation of the three modern approaches of the Plant kingdom in homeopathy.
---
Spice of life - Spectrum of Homeopathy 01/2016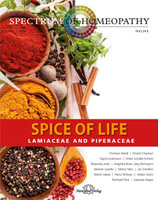 ---
customer reviews of Spectrum of Homeopathy
With this forum, we'd like to offer our customers the opportunity to share their experiences with our products. We'd like to point out that only personal experiences and subjective product reviews are shared in here. We do not claim ownership of any posted content. We do not censor what people post because we value and respect free speech. However, we distance ourselves from the comments and statements - we cannot nor do we want to judge them as correct or incorrect. In case you feel inspired by a contribution, we ask you to consult a medical doctor or any acknowledged and certified professional who can prove the truth of the matter asserted.

create review
average customer rating:


180


4,6 out of 5 Stars

120 reviews (german), 60 reviews (english)


Top comments
Show newest comments first
Spectrum of Homeopathy