Spice of life - Spectrum of Homeopathy 01/2016
Jan Scholten, Martin Jakob: Primitive and complex spices
Even though the Piperaceae and Lamiaceae families have common themes such as boredom and excitation, they have more fundamental differences, according to the Plant theory. With the Piperaceae, the emphasis is on the Carbon series and therefore on childhood, which is characterized by boredom and tedium (phase 6). With the Lamiaceae, the themes of series 3 to 6 of the periodic table also feature, with the emphasis on the Silver series. The excessive temperament of the Lamiaceae and their outward urge share the Phosphorus-like quality of phase 5. Three cases are used to illustrate the common themes and differences of the two plant families. They also illustrate the current state of the Plant theory, in which the subfamilies of a family can sometimes be assigned to different subphases.
KEYWORDS: anxiety disorder, Carbon series, globus pharyngis, Lamiaceae, Lamiidae, Lamioideae, Nepetoideae, panic attack, phase, Phosphorus, Piperaceae, Piper hispidum, Piper methysticum, plant evolution, Plant theory, remedy code, Silver series, Stachys officinalis, subfamily, subphase, tics
Jan Scholten, Martin Jakob: Primitive and complex spices

Spice of life - Spectrum of Homeopathy 01/2016
Jan Scholten, Martin Jakob: Primitive and complex spices

Even though the Piperaceae and Lamiaceae families have common themes such as boredom and excitation, they have more fundamental differences, according to the Plant theory. With the Piperaceae, the emphasis is on the Carbon series and therefore on childhood, which is characterized by boredom and tedium (phase 6). With the Lamiaceae, the themes of series 3 to 6 of the periodic table also feature, with the emphasis on the Silver series. The excessive temperament of the Lamiaceae and their outward urge share the Phosphorus-like quality of phase 5. Three cases are used to illustrate the common themes and differences of the two plant families. They also illustrate the current state of the Plant theory, in which the subfamilies of a family can sometimes be assigned to different subphases.

KEYWORDS: anxiety disorder, Carbon series, globus pharyngis, Lamiaceae, Lamiidae, Lamioideae, Nepetoideae, panic attack, phase, Phosphorus, Piperaceae, Piper hispidum, Piper methysticum, plant evolution, Plant theory, remedy code, Silver series, Stachys officinalis, subfamily, subphase, tics
---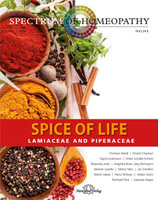 plus shipment:
2,90 EUR per Issue
Overview of this edition of spectrum homeopathy