Spice of life - Spectrum of Homeopathy 01/2016
Reinhard Flick: Letting go of tension
The author presents the first homeopathic proving of Thyme, an important component of herbal cough mixtures. Astonishingly, not a single prover experienced coughing. The physical symptoms predominantly concerned the head, vertigo, vision, kidneys, and muscles. Strikingly frequent symptoms were a feeling of paralysis in the upper arms and twitching at various places. At a mental level, there was a polarity between tension and irritability, as well as relaxation and withdrawal.
keywords: headache, irritability, Lamiaceae, muscle twitching, paralysis, tension, Thymus vulgaris, vertigo, visual disturbances
Reinhard Flick: Letting go of tension

Spice of life - Spectrum of Homeopathy 01/2016
Reinhard Flick: Letting go of tension

The author presents the first homeopathic proving of Thyme, an important component of herbal cough mixtures. Astonishingly, not a single prover experienced coughing. The physical symptoms predominantly concerned the head, vertigo, vision, kidneys, and muscles. Strikingly frequent symptoms were a feeling of paralysis in the upper arms and twitching at various places. At a mental level, there was a polarity between tension and irritability, as well as relaxation and withdrawal.

keywords: headache, irritability, Lamiaceae, muscle twitching, paralysis, tension, Thymus vulgaris, vertigo, visual disturbances
---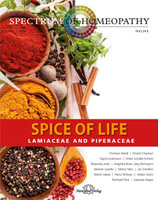 plus shipment:
2,90 EUR per Issue
Overview of this edition of spectrum homeopathy