Spice of life - Spectrum of Homeopathy 01/2016
Martin Jakob: The subtlety of the plant theory
Two cases of Marrubium vulgare and Plectranthus fruticosus demonstrate the differentiation of Lamiaceae into two subfamilies, to which differing subphases can be assigned. The Nepetoideae (665.55) correspond to the classical picture of the Lamiaceae with the enthusiasm and expansiveness of Phosphorus and Nitrogenium. They are pushed by their parents (phase 5) and at the same time they feel (subphase 5) driven by the constant pressure of expectation. The Lamioideae (665.54) case is also about a "pushed child" (phase 5) who is, however, comfortable with herself and the situation (subphase 4). The expansive qualities are not so pronounced and the patient is more stable.
keywords: bronchitis, Lamiaceae, Lamiidae, Lamioideae, Marrubium vulgare, Nepetoideae, phase, Phosphorus, Plant theory, Plectranthus fruticosus, Silver series, subfamily, subphase
Martin Jakob: The subtlety of the plant theory

Spice of life - Spectrum of Homeopathy 01/2016
Martin Jakob: The subtlety of the plant theory

Two cases of Marrubium vulgare and Plectranthus fruticosus demonstrate the differentiation of Lamiaceae into two subfamilies, to which differing subphases can be assigned. The Nepetoideae (665.55) correspond to the classical picture of the Lamiaceae with the enthusiasm and expansiveness of Phosphorus and Nitrogenium. They are pushed by their parents (phase 5) and at the same time they feel (subphase 5) driven by the constant pressure of expectation. The Lamioideae (665.54) case is also about a "pushed child" (phase 5) who is, however, comfortable with herself and the situation (subphase 4). The expansive qualities are not so pronounced and the patient is more stable.

keywords: bronchitis, Lamiaceae, Lamiidae, Lamioideae, Marrubium vulgare, Nepetoideae, phase, Phosphorus, Plant theory, Plectranthus fruticosus, Silver series, subfamily, subphase
---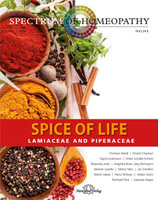 plus shipment:
2,90 EUR per Issue
Overview of this edition of spectrum homeopathy
Spectrum of Homeopathy