Spice of life - Spectrum of Homeopathy 01/2016
Christian Weidl: Pepper: The king of spices
After an overview of the cultural history of pepper and its significance in ayurvedic medicine, the author develops the homeopathic group remedy picture of the Piperaceae. Specifically for this purpose, he undertook some provings on himself using unknown Pepper remedies. Factors common to all Piperaceae include increased wakefulness, restlessness, nervousness, irritability, and talkativeness, as well as physical symptoms including headaches and sensitivity to pain, with an underlying feeling of tingling and burning.
keywords: Ayurveda, betel nut, burning, Cubeba, Kava-Kava, Matico, miasms, pepper, phytotherapy, Piperaceae, Piper angustifolium, Piper auritum, Piper betle, Piper cubeba, Piper hispidum, Piper lolot, Piper longum, Piper methysticum, Piper nigrum, Piper sarmentosum, tingling
Christian Weidl: Pepper: The king of spices

Spice of life - Spectrum of Homeopathy 01/2016
Christian Weidl: Pepper: The king of spices

After an overview of the cultural history of pepper and its significance in ayurvedic medicine, the author develops the homeopathic group remedy picture of the Piperaceae. Specifically for this purpose, he undertook some provings on himself using unknown Pepper remedies. Factors common to all Piperaceae include increased wakefulness, restlessness, nervousness, irritability, and talkativeness, as well as physical symptoms including headaches and sensitivity to pain, with an underlying feeling of tingling and burning.

keywords: Ayurveda, betel nut, burning, Cubeba, Kava-Kava, Matico, miasms, pepper, phytotherapy, Piperaceae, Piper angustifolium, Piper auritum, Piper betle, Piper cubeba, Piper hispidum, Piper lolot, Piper longum, Piper methysticum, Piper nigrum, Piper sarmentosum, tingling
---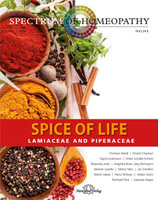 plus shipment:
2,90 EUR per Issue
Overview of this edition of spectrum homeopathy