Spice of life - Spectrum of Homeopathy 01/2016
Michal Yakir: Yin and yang in the development of plants
The prominent characteristics from the remedy provings of Banana and Ginger are explained in terms of the position of the Zingiberales in the evolution of plants, as represented in Michal Yakir's table. The author highlights the special role played by the relationship of the elements fire and water. This is manifested in Musa sapientum as disturbances of the fluid balance and a dominant intellect – it is a remedy for knowledge workers. With Zingiber officinale, excess fire leads to congestion in the head and poor digestion, restless nervousness, hyperactivity, and sexual overexcitation.
keywords: banana, fire, elements, ginger, Kabbala, Lamiales, Monocotyledon, plant evolution, plant table, water, Yakir, Zingiber, Zingiberales
Michal Yakir: Yin and yang in the development of plants

Spice of life - Spectrum of Homeopathy 01/2016
Michal Yakir: Yin and yang in the development of plants

The prominent characteristics from the remedy provings of Banana and Ginger are explained in terms of the position of the Zingiberales in the evolution of plants, as represented in Michal Yakir's table. The author highlights the special role played by the relationship of the elements fire and water. This is manifested in Musa sapientum as disturbances of the fluid balance and a dominant intellect – it is a remedy for knowledge workers. With Zingiber officinale, excess fire leads to congestion in the head and poor digestion, restless nervousness, hyperactivity, and sexual overexcitation.

keywords: banana, fire, elements, ginger, Kabbala, Lamiales, Monocotyledon, plant evolution, plant table, water, Yakir, Zingiber, Zingiberales
---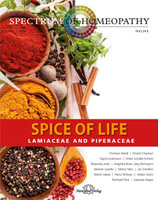 plus shipment:
2,90 EUR per Issue
Overview of this edition of spectrum homeopathy