Spice of life - Spectrum of Homeopathy 01/2016
Jan Scholten: Fractal system
The author explains the development of the Plant theory with its typical remedy codes based on the series and stages of the periodic table. The series represent the area of life in which the patient's problem arises. A particular role in the precise determination of the plant families is played by the phases and subphases, which correspond to the stages of the Carbon and Silicium series. The phase represents the actual position of a person in relationship to their problem and the other people involved. The phases are differentiated with reference to these people and the degree of belonging to their group. The subphases correspond not to the actual but to the felt position in the group.
Within the family the plant remedy is precisely determined with the help of the stages. These show how someone deals with their problem. The system of remedy coding is presented using the example of Belladonna.
keywords: Atropa belladonna, elements, Lamiidae, periodic table, plant evolution, Plant theory, phases, remedy code, series, Solanales, stages, subphases


Jan Scholten: Fractal system

Spice of life - Spectrum of Homeopathy 01/2016
Jan Scholten: Fractal system

The author explains the development of the Plant theory with its typical remedy codes based on the series and stages of the periodic table. The series represent the area of life in which the patient's problem arises. A particular role in the precise determination of the plant families is played by the phases and subphases, which correspond to the stages of the Carbon and Silicium series. The phase represents the actual position of a person in relationship to their problem and the other people involved. The phases are differentiated with reference to these people and the degree of belonging to their group. The subphases correspond not to the actual but to the felt position in the group.
Within the family the plant remedy is precisely determined with the help of the stages. These show how someone deals with their problem. The system of remedy coding is presented using the example of Belladonna.

keywords: Atropa belladonna, elements, Lamiidae, periodic table, plant evolution, Plant theory, phases, remedy code, series, Solanales, stages, subphases


---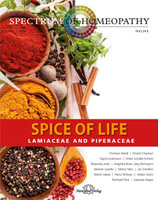 plus shipment:
2,90 EUR per Issue
Overview of this edition of spectrum homeopathy
Spectrum of Homeopathy