Spice of life - Spectrum of Homeopathy 01/2016
Gabriela Hoppe: Finding your own position
Based on trituration, remedy proving, Remedy Evolution Constellation (REC), and clinical application, this article develops the initial remedy picture of Glechoma hederaceae. As described in folk medicine, potentized ground ivy is a tonic at all levels. It can revitalize sclerotic processes and improve the perception of one's own needs and potential. Frequent symptoms are pains in various parts of the body, tiredness, and protracted itchy skin rashes.
keywords: depression, Glechoma hederacea, ground ivy, Lamiaceae, panic attacks, Remedy Evolution Constellation (REC), tonic, trituration proving
Gabriela Hoppe: Finding your own position

Spice of life - Spectrum of Homeopathy 01/2016
Gabriela Hoppe: Finding your own position

Based on trituration, remedy proving, Remedy Evolution Constellation (REC), and clinical application, this article develops the initial remedy picture of Glechoma hederaceae. As described in folk medicine, potentized ground ivy is a tonic at all levels. It can revitalize sclerotic processes and improve the perception of one's own needs and potential. Frequent symptoms are pains in various parts of the body, tiredness, and protracted itchy skin rashes.

keywords: depression, Glechoma hederacea, ground ivy, Lamiaceae, panic attacks, Remedy Evolution Constellation (REC), tonic, trituration proving
---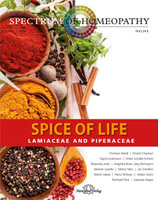 plus shipment:
2,90 EUR per Issue
Overview of this edition of spectrum homeopathy