Burnout - Panic - Depression - Spectrum Of Homoeopathy 02/2012

The diagnosis "burnout" is assuming ever greater significance. It not only affects people who are physically and emotionally exhausted after many years in the rat race, but increasingly frequently the younger "thirty something" generation. Social isolation and increased stress in working as well as personal life produces a malaise of depression, anxiety, and panic with multiple vegetative symptoms and various pain syndromes.
In contrast to the standard medical therapy with antidepressants and tranquilizers, homeopathy can treat psychosomatic complaints gently, individually, and holistically. Using representative cases from renowned international authors, this issue of Spectrum shows homeopathic approaches to the treatment of the currently widespread illnesses of depression and especially burnout, offering tips for frequently indicated remedies and remedy groups, and describing typical patterns of healing.
---
---
---
---
Ana Lamaro: Fear of destruction
In this case of Lithium bromatum, a severely traumatized patient is helped by a combination of homeopathy and psychoanalysis
---
---
---
---
---
---
---
---
---
---
---
---
Pages:
Burnout - Panic - Depression - Spectrum Of Homoeopathy 02/2012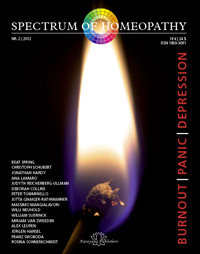 ---
customer reviews of Spectrum of Homeopathy
With this forum, we'd like to offer our customers the opportunity to share their experiences with our products. We'd like to point out that only personal experiences and subjective product reviews are shared in here. We do not claim ownership of any posted content. We do not censor what people post because we value and respect free speech. However, we distance ourselves from the comments and statements - we cannot nor do we want to judge them as correct or incorrect. In case you feel inspired by a contribution, we ask you to consult a medical doctor or any acknowledged and certified professional who can prove the truth of the matter asserted.

create review
average customer rating:


180


4,6 out of 5 Stars

120 reviews (german), 60 reviews (english)


Top comments
Show newest comments first
Spectrum of Homeopathy