Birds - Spectrum Of Homoeopathy 01/2011

A New Group Of Medicine

We are gradually coming to recognize the importance of the bird remedies in homeopathy: to date, only just over 100 remedies have been prepared – so we still lack a sound basis here. Jörg Wichmann helps consolidate our knowledge in this area with his summary of the remedy provings conducted so far.
This issue features an interview with Jonathan Shore, and there are also practical cases introducing us to Raven, Swift, Pelican, and Cormorant. Misha Norland, Markus Kuntosch, Pat Deacon, and other well-known homeopaths extend our knowledge of the Griffin. Annette Sneevliet and Deborah Collins present various Pigeons, Linda Johnston gives us a differential diagnosis of her case of Ara macaw in comparison to similar families, and Rosina Sonnenschmidt discusses the connection between domesticated exotic birds and their keepers. Jan Scholten with Geococcyx californianus and Chetna Shuklas with Pavo cristatus venture into new and uncharted territory, whereas Louis Klein's nosode Tuberculinum aviaire reminds us once again of the deep affinity between birds and humans.
---
Jonathan Shore: "I'm No Theorist!"
Jonathan Shore works primarily with information from remedy provings. He thinks it is very important to comprehend the essence of patients needing bird remedies and to grasp the main focus of their lives.
---
---
---
---
---
---
Misha Norland: Fighting against Constraint
A proving of the Peregrine Falcon in 1997 by the Devon-based School of Homeopathy reveals the characteristics of this bird of prey, whose freedom has been so drastically curtailed.
---
---
---
---
---
Jan Scholten: Like In A Tin
A migraine patient creates provocation and chaos to combat her horror vision of being constricted. The roadrunner subdues her restlessness and pain.
---
---
---
---
---
---
---
---
---
Pages:
Birds - Spectrum Of Homoeopathy 01/2011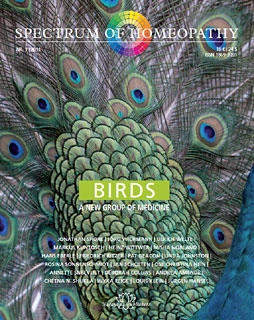 ---
customer reviews of Spectrum of Homeopathy
With this forum, we'd like to offer our customers the opportunity to share their experiences with our products. We'd like to point out that only personal experiences and subjective product reviews are shared in here. We do not claim ownership of any posted content. We do not censor what people post because we value and respect free speech. However, we distance ourselves from the comments and statements - we cannot nor do we want to judge them as correct or incorrect. In case you feel inspired by a contribution, we ask you to consult a medical doctor or any acknowledged and certified professional who can prove the truth of the matter asserted.

create review
average customer rating:


175


4,7 out of 5 Stars

116 reviews (german), 59 reviews (english)


Top comments
Show newest comments first
Spectrum of Homeopathy