Powerdrugs - Spectrum Of Homeopathy 02/2010

Cacao, Cola, Coca & Co.

Power Drugs are now a major part of our daily life, yet consumption of these drugs is culturally speaking an ancient issue of human existence. Ephedrine, for example, is currently a widely used doping agent, yet it has also been used in different cultures for over 5000 years. Instead of the limited ritual or medicinal use found in older cultures, stimulants are used on a daily basis in our modern competitive societies especially to increase performance. They make us faster, better, and more effective!

For the 2010-2 (August) issue of Spectrum, we are glad to present a raft of well-known authors on the topic of "Powerdrugs": Andreas Richter, Anne Schadde, Jürgen Becker, Willy Neuhold, Norbert Enders, Peter Tuminello, Maarten van der Woud, Sunil Anand, Dorothea Weihe, Massimo Mangialavori, and others. You can find articles on Coffea cruda and tosta, Guarana, Thea, Cacao and Chocolate, Mate, Ephedra, Coca, Damiana, and the Piperaceae as well as – although not a typical stimulant – Tabacum.
---
---
Andreas Richter: Forbidden to be a child
Growing up quickly: the themes of the stimulants from the viewpoint of child development, with examples from Coffea cruda, Coffea tosta and Guarana (Paullinia sorbilis).
---
---
---
---
---
---
---
---
---
---
---
Sunil Anand: Coca in children
Observable distraction and mechanical behavior in a one-year-old baby girl is reflected in her father's energy pattern.
---
---
---
---
Pages:
Powerdrugs - Spectrum Of Homeopathy 02/2010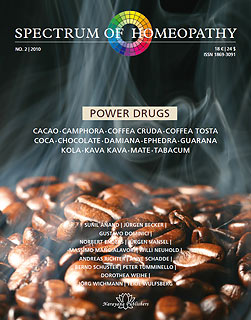 ---
customer reviews of Spectrum of Homeopathy
With this forum, we'd like to offer our customers the opportunity to share their experiences with our products. We'd like to point out that only personal experiences and subjective product reviews are shared in here. We do not claim ownership of any posted content. We do not censor what people post because we value and respect free speech. However, we distance ourselves from the comments and statements - we cannot nor do we want to judge them as correct or incorrect. In case you feel inspired by a contribution, we ask you to consult a medical doctor or any acknowledged and certified professional who can prove the truth of the matter asserted.

create review
average customer rating:


180


4,6 out of 5 Stars

120 reviews (german), 60 reviews (english)


Top comments
Show newest comments first
Spectrum of Homeopathy