Homöopathie und Pandemien
von Joette Calabrese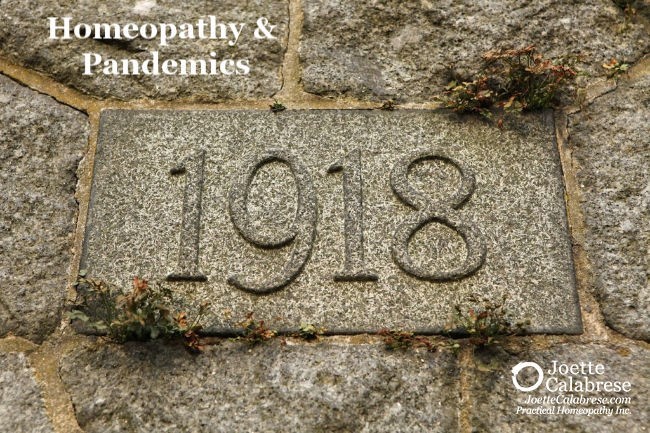 Alles fängt wieder von vorne an, das Alte wird neu: Pandemien und die damit verbundene Panik.
Unsere Zivilisation gibt es schon sehr, sehr lange. Im Vergleich dazu kommen wir gerade einmal wie Pubertierende daher. Auch deswegen fühlt sich diese erste Pandemie seit vielen Generationen irgendwie völlig unerwartet an.
Doch während die umfassende globale Reaktion auf COVID-19 nahezu beispiellos ist, handelt es sich hier bei weitem nicht um die erste Pandemie auf unserem Planeten.
In den letzten 200 Jahren konnte die Homöopathie bei Epidemien und Pandemien große Erfolge verzeichnen. Ich habe in meinem Bildband Paradigma Homöopathie - eine kurze Geschichte darüber geschrieben.
Und weil wir alle gemeinsam gerade eine Pandemie erleben, möchte ich Ihnen einen Auszug aus meinem Buch hier vorstellen:
"Die Kraft der Homöopathie beschränkt sich nicht auf Kopfschmerzen, Schnupfen und Fieber. Die Homöopathie kann mehr. Sie ist in der Lage, auch die tödlichsten Krankheiten zu bekämpfen und war damit so erfolgreich, dass es von historischer Bedeutung ist.
Aber wir wissen auch, dass Vorurteile, Missinterpretationen und ungenaue Darstellungen die Geschichte verzerren können. Zu unserem Nachteil sind die Beiträge, die die Homöopathie in der Behandlung epidemischer Krankheiten geleistet hat, weitestgehend ignoriert worden.
Aus den schrecklichen Verwüstungen der Grippepandemie, die Amerika im Jahr 1918 heimsuchte, kam die Homöopathie als tragende und effektive Kraft hervor.
Und das will viel heißen, wenn man bedenkt, dass dieser Pandemie – auch bekannt als Spanische Grippe – weltweit 50 Millionen Menschen zum Opfer fielen. Das sind 34 Millionen mehr als im ersten Weltkrieg.
Diese Grippe konnte innerhalb weniger Stunden oder Tage tödlich verlaufen. Meist erstickten die Kranken qualvoll, weil sie Wasser in der Lunge hatten. Besonders die jungen Erwachsenen wurden mit einer ungeheuren Wucht getroffen. Aber die Homöopathie kam buchstäblich zur Rettung, wenn sie denn zur Anwendung kam.
Bedenken Sie bitte Folgendes: Ein Mann aus Philadelphia namens Dean W.A. Pearson sammelte Informationen über Grippefälle, die von homöopathischen Ärzten behandelt wurden. Die Sterblichkeitsrate bei den 26 795 homöopathischen Fällen betrug nur 1,05 % im Vergleich zu den durchschnittlichen 30 % unter den schulmedizinischen Patienten!
Einer dieser bescheidenen Ärzte, ein Dr. T.A. McCann aus Ohio, schrieb: "Ich habe 1000 Grippe-Fälle behandelt. Die Fälle sind gut dokumentiert. Ich habe keinen einzigen Patienten verloren. Der Homöopathie gehört die Anerkennung dafür und nicht den schottisch-irischen Amerikanern!"
Auch in Rhode Island berichtete ein Dr. Dudley Williams, dass er nicht einen einzigen Patienten an die Grippe verloren hätte – keinen einzigen! Seine Sterblichkeitsrate bei Lungenentzündung lag bei 2,1 %. Das ist schon erstaunlich, wenn man bedenkt, dass die allopathischen Ärzte – die überwiegend mit Aspirin und Chinin behandelten – 60 % ihrer Patienten mit Lungenentzündung verloren.
Ein weiterer Arzt, diesmal aus Chicago, Illinois, berichtete, dass in einer Fabrik mit 8000 Arbeitern nur ein Mann starb. Hier wurde die homöopathische Arznei Gelsemium quasi als einziges Mittel eingesetzt. Weder Aspirin, Impfungen oder andere Medikamente wurden verabreicht.[1]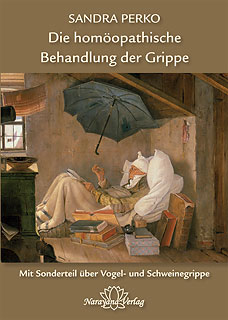 Das sind starke Geschichte und starke Daten.
In der Tat wäre es müßig, diese Erfolge mit dem Placebo-Effekt zu erklären. Tausende und Abertausenden erlagen hier einer weltweiten Epidemie, aber die Tausenden von Menschen, die homöopathisch behandelt wurden, ragen wie mächtige Zeitzeugen empor. Wenn man sich die Erfolgsquote bei der homöopathischen Behandlung der Spanischen Grippe anschaut, ist es sehr bedauerlich, dass man die unglaubliche Heilkraft dieser sanften Methode nicht breiter einsetzte. Vielleicht hätten viele Millionen Menschen nicht sterben müssen.
Fast ein Jahrhundert zuvor war eine andere Epidemie um die Welt gefegt – die Asiatische Cholera. Im frühen 19. Jahrhundert traf die Welle auf die USA, wo sich die Homöopathie als würdiger Kämpfer gegen diese schreckliche Krankheit erwies.
1840 wurde der deutsche Homöopath Dr. Joseph Hypolyte Pulte bei seiner Ankunft in Cincinnati, Ohio, auf höchst unangenehme Art und Weise empfangen. Er wurde fast von der örtlichen Gemeinde vertrieben, die Bewohner belagerten sein Haus und überschütteten ihn mit Spott und Häme, sodass er den Ort umgehend wieder verlassen wollte. Nur seiner Frau und seinen Kindern zuliebe blieb er an Ort und Stelle.
Gott sein Dank hielt Joseph Pulte durch und war noch in Cincinnati, als die Choleraepidemie ausbrach. Er war bereit und in der Lage, jeden einzelnen seiner Patienten zu retten. Es versteht sich von selbst, dass ihm die ganze Gemeinde sehr dankbar war und ihm von nun an den Respekt zollte, den er verdiente.
Im Jahr 1832 forderte die Cholera in New York City 3000 Menschenleben. Der Homöopath William Channing behandelte seine Patienten so erfolgreich mit Veratrum, Camphora und Cuprum, dass seine Heilungen sogar von den allopathischen Ärzten und der Stadt New York anerkannt wurden. Ebenfalls in New York verglich der homöopathische Arzt Isaac Moreau Ward im Jahr 1832 den Erfolg der homöopathischen Behandlung mit dem der schulmedizinischen Therapie. Er konnte bestätigen, dass die homöopathische Behandlung ohne jeden Zweifel der allopathischen überlegen war.[2]
Auch die Erfolge der homöopathischen Behandlungsprotokolle von John Franklin Gray zogen die Aufmerksamkeit der allopathischen Ärzte in New York City auf sich. Der Homöopath hatte zwar keinen Zugang zu öffentlichen Krankenhäusern gehabt, konnte aber viele Patienten heilen. Dafür wurde er von der Ärzteschaft respektiert, die sich ausgiebig berichten ließ.[3]"
Das sind einige wenige Beispiele dafür, wie mächtig die Homöopathie ist. Aber gleichzeitig heilt sie mit sehr sanfter Kraft – oder "milde Macht", wie es der berühmte Homöopath und Vater der amerikanischen Homöopathie Dr. Constantine Hering nannte. Sie besitzt die Fähigkeit, die Gesundheit des Menschen wiederherzustellen und das auch bei Patienten, die ernsthaft erkrankt sind, wie es bei einer Pandemie der Fall ist.
Die Homöopathie wirkt und das sehr mächtig. Dabei hinterlässt sie keine "betäubenden" Spuren, die man häufig bei Patienten findet, die zwischen Leben und Tod schwanken und mit Medikamenten behandelt wurden.
Es ist schade, dass diese außergewöhnlichen Beiträge zur globalen Gesundheit und der Medizin allgemein kaum die Beachtung finden, die ihnen zusteht.
Es bleibt uns überlassen, zu lernen, wie die Homöopathie funktioniert. Sagen Sie es weiter – es lohnt sich!
Herzlichst,
Ihre Joette
P.S. In diesen aufgewühlten Zeiten ist es besonders wichtig, zusammenzuhalten und gemeinsam zu lernen. Ob Homöopathie-Anfänger oder alter Hase in Sachen Globuli: Das Lernen fällt in einer Gruppe leichter und geht dank Zoom oder Skype ganz einfach.
Lassen Sie es uns gemeinsam tun – auf der ganzen Welt von Mutter zu Mutter und Familie zu Familie.
------------------------------------------------------------------------------------------------------------------------------------
Quelle: https://joettecalabrese.com/blog/homeopathy-and-pandemics/
Foto: Shutterstock_1673625835, Copyright: Chamille White
------------------------------------------------------------------------------------------------------------------------------------

---
[1] Julian Winston, The Faces of Homeopathy: An Illustrated History of the First 200 Years (New Zealand: Great Auk Publishing, 1999), 236-237.
[2] Winston, The Faces of Homeopathy, 40.
[3] http://sueyounghistories.com/archives/2009/11/09/a-homeopathic-history-of-cholera/; 5.18.2011
Homöopathie und Pandemien

von Joette Calabrese

Alles fängt wieder von vorne an, das Alte wird neu: Pandemien und die damit verbundene Panik.

Unsere Zivilisation gibt es schon sehr, sehr lange. Im Vergleich dazu kommen wir gerade einmal wie Pubertierende daher. Auch deswegen fühlt sich diese erste Pandemie seit vielen Generationen irgendwie völlig unerwartet an.

Doch während die umfassende globale Reaktion auf COVID-19 nahezu beispiellos ist, handelt es sich hier bei weitem nicht um die erste Pandemie auf unserem Planeten.

In den letzten 200 Jahren konnte die Homöopathie bei Epidemien und Pandemien große Erfolge verzeichnen. Ich habe in meinem Bildband Paradigma Homöopathie - eine kurze Geschichte darüber geschrieben.

Und weil wir alle gemeinsam gerade eine Pandemie erleben, möchte ich Ihnen einen Auszug aus meinem Buch hier vorstellen:

"Die Kraft der Homöopathie beschränkt sich nicht auf Kopfschmerzen, Schnupfen und Fieber. Die Homöopathie kann mehr. Sie ist in der Lage, auch die tödlichsten Krankheiten zu bekämpfen und war damit so erfolgreich, dass es von historischer Bedeutung ist.

Aber wir wissen auch, dass Vorurteile, Missinterpretationen und ungenaue Darstellungen die Geschichte verzerren können. Zu unserem Nachteil sind die Beiträge, die die Homöopathie in der Behandlung epidemischer Krankheiten geleistet hat, weitestgehend ignoriert worden.

Aus den schrecklichen Verwüstungen der Grippepandemie, die Amerika im Jahr 1918 heimsuchte, kam die Homöopathie als tragende und effektive Kraft hervor.

Und das will viel heißen, wenn man bedenkt, dass dieser Pandemie – auch bekannt als Spanische Grippe – weltweit 50 Millionen Menschen zum Opfer fielen. Das sind 34 Millionen mehr als im ersten Weltkrieg.

Diese Grippe konnte innerhalb weniger Stunden oder Tage tödlich verlaufen. Meist erstickten die Kranken qualvoll, weil sie Wasser in der Lunge hatten. Besonders die jungen Erwachsenen wurden mit einer ungeheuren Wucht getroffen. Aber die Homöopathie kam buchstäblich zur Rettung, wenn sie denn zur Anwendung kam.

Bedenken Sie bitte Folgendes: Ein Mann aus Philadelphia namens Dean W.A. Pearson sammelte Informationen über Grippefälle, die von homöopathischen Ärzten behandelt wurden. Die Sterblichkeitsrate bei den 26 795 homöopathischen Fällen betrug nur 1,05 % im Vergleich zu den durchschnittlichen 30 % unter den schulmedizinischen Patienten!

Einer dieser bescheidenen Ärzte, ein Dr. T.A. McCann aus Ohio, schrieb: "Ich habe 1000 Grippe-Fälle behandelt. Die Fälle sind gut dokumentiert. Ich habe keinen einzigen Patienten verloren. Der Homöopathie gehört die Anerkennung dafür und nicht den schottisch-irischen Amerikanern!"

Auch in Rhode Island berichtete ein Dr. Dudley Williams, dass er nicht einen einzigen Patienten an die Grippe verloren hätte – keinen einzigen! Seine Sterblichkeitsrate bei Lungenentzündung lag bei 2,1 %. Das ist schon erstaunlich, wenn man bedenkt, dass die allopathischen Ärzte – die überwiegend mit Aspirin und Chinin behandelten – 60 % ihrer Patienten mit Lungenentzündung verloren.

Ein weiterer Arzt, diesmal aus Chicago, Illinois, berichtete, dass in einer Fabrik mit 8000 Arbeitern nur ein Mann starb. Hier wurde die homöopathische Arznei Gelsemium quasi als einziges Mittel eingesetzt. Weder Aspirin, Impfungen oder andere Medikamente wurden verabreicht.[1]

Das sind starke Geschichte und starke Daten.

In der Tat wäre es müßig, diese Erfolge mit dem Placebo-Effekt zu erklären. Tausende und Abertausenden erlagen hier einer weltweiten Epidemie, aber die Tausenden von Menschen, die homöopathisch behandelt wurden, ragen wie mächtige Zeitzeugen empor. Wenn man sich die Erfolgsquote bei der homöopathischen Behandlung der Spanischen Grippe anschaut, ist es sehr bedauerlich, dass man die unglaubliche Heilkraft dieser sanften Methode nicht breiter einsetzte. Vielleicht hätten viele Millionen Menschen nicht sterben müssen.

Fast ein Jahrhundert zuvor war eine andere Epidemie um die Welt gefegt – die Asiatische Cholera. Im frühen 19. Jahrhundert traf die Welle auf die USA, wo sich die Homöopathie als würdiger Kämpfer gegen diese schreckliche Krankheit erwies.

1840 wurde der deutsche Homöopath Dr. Joseph Hypolyte Pulte bei seiner Ankunft in Cincinnati, Ohio, auf höchst unangenehme Art und Weise empfangen. Er wurde fast von der örtlichen Gemeinde vertrieben, die Bewohner belagerten sein Haus und überschütteten ihn mit Spott und Häme, sodass er den Ort umgehend wieder verlassen wollte. Nur seiner Frau und seinen Kindern zuliebe blieb er an Ort und Stelle.

Gott sein Dank hielt Joseph Pulte durch und war noch in Cincinnati, als die Choleraepidemie ausbrach. Er war bereit und in der Lage, jeden einzelnen seiner Patienten zu retten. Es versteht sich von selbst, dass ihm die ganze Gemeinde sehr dankbar war und ihm von nun an den Respekt zollte, den er verdiente.

Im Jahr 1832 forderte die Cholera in New York City 3000 Menschenleben. Der Homöopath William Channing behandelte seine Patienten so erfolgreich mit Veratrum, Camphora und Cuprum, dass seine Heilungen sogar von den allopathischen Ärzten und der Stadt New York anerkannt wurden. Ebenfalls in New York verglich der homöopathische Arzt Isaac Moreau Ward im Jahr 1832 den Erfolg der homöopathischen Behandlung mit dem der schulmedizinischen Therapie. Er konnte bestätigen, dass die homöopathische Behandlung ohne jeden Zweifel der allopathischen überlegen war.[2]

Auch die Erfolge der homöopathischen Behandlungsprotokolle von John Franklin Gray zogen die Aufmerksamkeit der allopathischen Ärzte in New York City auf sich. Der Homöopath hatte zwar keinen Zugang zu öffentlichen Krankenhäusern gehabt, konnte aber viele Patienten heilen. Dafür wurde er von der Ärzteschaft respektiert, die sich ausgiebig berichten ließ.[3]"

Das sind einige wenige Beispiele dafür, wie mächtig die Homöopathie ist. Aber gleichzeitig heilt sie mit sehr sanfter Kraft – oder "milde Macht", wie es der berühmte Homöopath und Vater der amerikanischen Homöopathie Dr. Constantine Hering nannte. Sie besitzt die Fähigkeit, die Gesundheit des Menschen wiederherzustellen und das auch bei Patienten, die ernsthaft erkrankt sind, wie es bei einer Pandemie der Fall ist.

Die Homöopathie wirkt und das sehr mächtig. Dabei hinterlässt sie keine "betäubenden" Spuren, die man häufig bei Patienten findet, die zwischen Leben und Tod schwanken und mit Medikamenten behandelt wurden.

Es ist schade, dass diese außergewöhnlichen Beiträge zur globalen Gesundheit und der Medizin allgemein kaum die Beachtung finden, die ihnen zusteht.

Es bleibt uns überlassen, zu lernen, wie die Homöopathie funktioniert. Sagen Sie es weiter – es lohnt sich!

Herzlichst,

Ihre Joette

P.S. In diesen aufgewühlten Zeiten ist es besonders wichtig, zusammenzuhalten und gemeinsam zu lernen. Ob Homöopathie-Anfänger oder alter Hase in Sachen Globuli: Das Lernen fällt in einer Gruppe leichter und geht dank Zoom oder Skype ganz einfach.

Lassen Sie es uns gemeinsam tun – auf der ganzen Welt von Mutter zu Mutter und Familie zu Familie.

------------------------------------------------------------------------------------------------------------------------------------

Quelle: https://joettecalabrese.com/blog/homeopathy-and-pandemics/

Foto: Shutterstock_1673625835, Copyright: Chamille White

------------------------------------------------------------------------------------------------------------------------------------

---

[1] Julian Winston, The Faces of Homeopathy: An Illustrated History of the First 200 Years (New Zealand: Great Auk Publishing, 1999), 236-237.

[2] Winston, The Faces of Homeopathy, 40.

[3] http://sueyounghistories.com/archives/2009/11/09/a-homeopathic-history-of-cholera/; 5.18.2011
Join the Narayana Homeopathy Newsletter
In our homeopathy newsletter you'll receive weekly information about
new homeopathy books
homeopathy cases
homeopathy seminars
| | |
| --- | --- |
| Aktuelle Artikel aus der Homöopathie | |

zurück zur Übersicht