Gold Series - Spectrum of Homeopathy 01/2018
Resie Moonen: Alone with his grief
Two contrasting cases are used to differentiate the chlorine compounds of Gold. Aurum muriaticum natronatum is a major grief remedy, especially for complaints following the death of a loved one. Those affected control their feelings and conceal their grief. Yet with Aurum muriaticum it is fear and not grief that is most prominent, especially the fear of all kinds of illness. Both salts share the Gold themes of responsibility and control.
Keywords: Aurum muriaticum, Aurum muriaticum natronatum, depression, fear, Gold series, headache, hypertension
Resie Moonen: Alone with his grief

Gold Series - Spectrum of Homeopathy 01/2018
Resie Moonen: Alone with his grief

Two contrasting cases are used to differentiate the chlorine compounds of Gold. Aurum muriaticum natronatum is a major grief remedy, especially for complaints following the death of a loved one. Those affected control their feelings and conceal their grief. Yet with Aurum muriaticum it is fear and not grief that is most prominent, especially the fear of all kinds of illness. Both salts share the Gold themes of responsibility and control.

Keywords: Aurum muriaticum, Aurum muriaticum natronatum, depression, fear, Gold series, headache, hypertension
---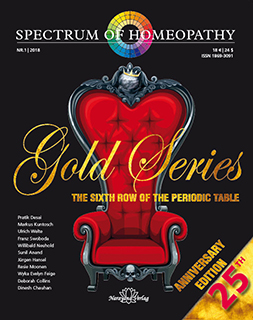 plus shipment:
2,90 EUR per Issue
Overview of this edition of spectrum homeopathy