Genus epidemicus - Spectrum of Homeopathy 01/2021
Giuseppe Fagone: Overrun by the virus
The Milan GP describes his experience with the chaotic situation at the beginning of the pandemic in northern Italy. In this early phase he describes a case demonstrating the difficulty of establishing even basic measures of hygiene and social distancing prior to homeopathic treatment. The course of treatment with Eupatorium perfoliatum and Chininum sulphuricum demonstrates how the healing time can be reduced with homeopathy, possibly preventing hospitalisation.
KEYWORDS: Chininum sulphuricum, conjunctivitis, constitutional remedy, coronavirus, Covid-19, Eupatorium perfoliatum, gastroenteritis, genus epidemicus, remittent fever
Giuseppe Fagone: Overrun by the virus

Genus epidemicus - Spectrum of Homeopathy 01/2021
Giuseppe Fagone: Overrun by the virus

The Milan GP describes his experience with the chaotic situation at the beginning of the pandemic in northern Italy. In this early phase he describes a case demonstrating the difficulty of establishing even basic measures of hygiene and social distancing prior to homeopathic treatment. The course of treatment with Eupatorium perfoliatum and Chininum sulphuricum demonstrates how the healing time can be reduced with homeopathy, possibly preventing hospitalisation.

KEYWORDS: Chininum sulphuricum, conjunctivitis, constitutional remedy, coronavirus, Covid-19, Eupatorium perfoliatum, gastroenteritis, genus epidemicus, remittent fever
---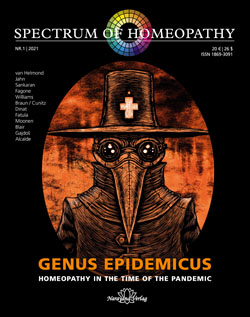 plus shipment:
2,90 EUR per issue
Overview of this edition of spectrum homeopathy