Plague and Psyche - Spectrum of Homeopathy 03/2022

The trauma of the pandemic

After 'Genus epidemicus' (1/21) and 'Long Covid' (1/22), we now address the dominant topic of the last two years. But this issue is different. When we started planning an issue called 'Plague and Psyche' in the summer of 2021 it was clear that the pandemic not only had fatal consequences for people's physical health but also produced appalling psychosocial effects. The mental pressure generated by the threats to people's livelihoods in many areas, from social distancing coupled with constriction within the family, the restrictions on rights and liberty, the heated discussion of the vaccines and other highly controversial topics led to anxiety disorders, panic attacks, paranoia, depression and even suicide. We wanted to portray the psychosocial aspects of the covid crisis in various aspects of social life and describe the homeopathic approaches to treatment.

However, it was not quite so easy to realise this aim. This issue of SPECTRUM took shape against the background of a divided world exhausted by prior and current crises. A number of authors withdrew either complaining of burnout or after becoming infected with the unpleasant Omicron variant. Others wanted to portray not just the pandemic experiences of their patients but their own too, putting things in a bigger picture. The very different perspectives combined to produce not just an unusual issue of our journal but also an exciting and moving account: very personal, open, emotional and also vulnerable. Our authors disclosed a lot about themselves.

Pat Deacon explains how her initially critical attitude to the vaccine changed due to her clinical experience, causing alienation from many colleagues. By contrast we learn about the experiences of unvaccinated patients who suffered extreme bullying and ostracism. In this global crisis we homeopaths frequently experience similar injuries to our patients, sharing their profound insecurity. Someone who, like Deborah Collins, almost died before reaching intensive care gains a unique perspective on their own life and that of their fellow humans.

Like Collins many authors also regard the pandemic as an opportunity: at the individual level, the pandemic crisis can reawaken old traumas and hidden conflicts so that typical reaction patterns and the corresponding remedies can be more easily recognised. Thanks to this effect, which impacted each of us individually as well as the society overall, some patients in our cases were helped with their simillimum and deep healing. On the global level too we hope there will be healing impulses coming from this crisis. The prerequisite is, however, that there is a straightforward diagnosis, as in the contribution from Franz Swoboda. With corona and the war in Ukraine, he reckons we are in an explosive period, which he assigns to stage 17 of the periodic table and picric acid: emotionless, unconnected, and primed for violence. 'Our skin is hungry', writes Wiet van Helmond. Like Swoboda, van Helmond sees healing in a new social connectedness, in exchange, closeness and contact, a future that – as Roland Guenther writes – 'is based not on fear and control but on trust and working together'.

The case histories in this issue show how homeopathy can help at the individual level to heal the wounds from division, isolation, loss of relationship, patronisation, discrimination and disorientation, so making a contribution to a new and trusting social cohesion. Even if, the focus is as usual on the stories of patients with comprehensive case analyses, interesting remedy prescriptions and the depiction of healing, along with the learning required for practical homeopathy, the overriding goal of this SPECTRUM issue is to hear very different voices and views on the pressing problems of these baleful times, helping to build bridges over the chasms that have opened up in recent years. For this reason we have placed the review of a book without a direct connection to homeopathy at the end of this issue. With Jane Goodall's 'Book of Hope' we are issuing an alarm call to the homeopathic community: be tolerant, let's talk to one another again and find hope again so we can do the best for others from wherever we find ourselves.
---
Plague and Psyche - Spectrum of Homeopathy 03/2022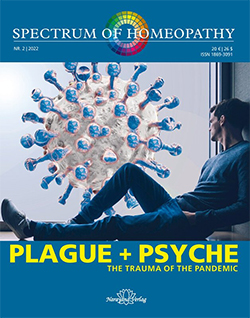 ---
customer reviews of Spectrum of Homeopathy
With this forum, we'd like to offer our customers the opportunity to share their experiences with our products. We'd like to point out that only personal experiences and subjective product reviews are shared in here. We do not claim ownership of any posted content. We do not censor what people post because we value and respect free speech. However, we distance ourselves from the comments and statements - we cannot nor do we want to judge them as correct or incorrect. In case you feel inspired by a contribution, we ask you to consult a medical doctor or any acknowledged and certified professional who can prove the truth of the matter asserted.

create review
average customer rating:


177


4,6 out of 5 Stars

118 reviews (german), 59 reviews (english)


Top comments
Show newest comments first
Spectrum of Homeopathy