Trauma - Spectrum of Homeopathy 01/2014

The Remedies of the Asteraceae Family

This edition of SPECTRUM on the homeopathic treatment of trauma is at the same time a materia medica of the Asteraceae. No other remedy family is so closely associated by homeopaths with the theme of injury. Internal and external injuries can have lifelong traumatic effects: SPECTRUM provides answers to the question of how to come to terms with such experiences and integrate them. Our renowned authors have explored the action spectrum of the Asteraceae, presenting both some familiar remedies and some new ones from the big family commonly known as the asters, daisies or sunflowers.

Willi Neuhold offers a clear structural framework for the Asteraceae: with the inner experience of the Asteraceae according to the sensation method and its miasmatic classification according to Sankaran, he provides a practical grid for the precise mapping of the individual remedies. A number of homeopaths – including Annegret Gärtner, Sigrid Lindemann, and the pediatrician Andreas Richter – indicate some alternatives to the Asteraceae, such as the Solanaceae. In Andreas Richter's article on the remedy picture and stress cycle of Bellis perennis, we also learn something about modern trauma treatment and the problem of retraumatization. Jürgen Weiland's article about a deeply disturbed youngster from his pediatric practice shows how important and healing this can be, including when working with parents.

Jan Scholten's new methodology is also highlighted in this edition of SPECTRUM. He explains in detail how to find the remedy according to his new periodic table of plants so that even those who are not fully up-to-speed with his latest ideas in "Wonderful Plants" can still follow his logic. Clarification of Scholten's thinking is offered by both Resie Moonen and Martin Jakob, who analyze their cases in accordance with Scholten's new approach. With his customary shrewd wit, Franz Swoboda shows how to "crack" Scholten's plant code for uncommon remedies. An original graphic from Jan Scholten's new book is provided, showing the taxonomic overview of the plant world.

Renate Paschmanns and Guy Payen present case histories showing the deep soul of the well-known remedy Arnica, which is also capable of healing profound layers of trauma. Declan Hammond's painfully acquired empathy enables him to accept patients who have experienced the worse thing that can happen to a parent – the death of their child. His description of what he went through and the loving way in which he deals with patients in the same predicament is very moving.

The astonishing thing, however, is that all these cases have a good ending. Ulrich Welte's fruitful and entertaining overview of the genus Cichorium also repeatedly poses the question "to be or not to be," which surprisingly often results in a happy ending thanks to homeopathy, despite the pain experienced along the way in each individual case.
---
Trauma - Spectrum of Homeopathy 01/2014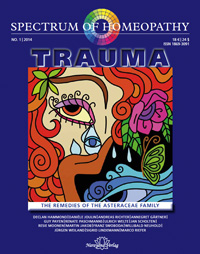 ---
customer reviews of Spectrum of Homeopathy
With this forum, we'd like to offer our customers the opportunity to share their experiences with our products. We'd like to point out that only personal experiences and subjective product reviews are shared in here. We do not claim ownership of any posted content. We do not censor what people post because we value and respect free speech. However, we distance ourselves from the comments and statements - we cannot nor do we want to judge them as correct or incorrect. In case you feel inspired by a contribution, we ask you to consult a medical doctor or any acknowledged and certified professional who can prove the truth of the matter asserted.

create review
average customer rating:


177


4,6 out of 5 Stars

118 reviews (german), 59 reviews (english)


Top comments
Show newest comments first
Spectrum of Homeopathy