New Life - Spectrum of Homeopathy 01/2013

Perinatal Homeopathy

The natural process of adaptation following the birth of a new baby presents the mother and child with special challenges, with more potential for danger to body and soul than most other phases of life. Homeopathy offers a multitude of approaches to deal with this critical period, helping to cope with complications in pregnancy, birth, and the initial phase where the baby has to adapt to the outside world.

For many doctors and midwives, homeopathic remedies are a natural first choice to deal with problems during birth and lying in. Proven indications, especially in emergency cases, are a valuable tool. On the other hand, the profound effect of a well-chosen individual prescription can help correct underlying difficulties in adaptation and provide the baby with a solid grounding in life. The full palette of homeopathic treatment in the perinatal phase from acute prescription to constitutional treatment is presented in this issue of SPECTRUM.
---
New Life - Spectrum of Homeopathy 01/2013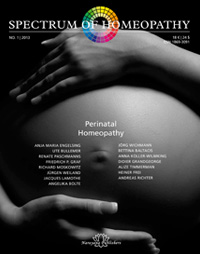 ---
customer reviews of Spectrum of Homeopathy
With this forum, we'd like to offer our customers the opportunity to share their experiences with our products. We'd like to point out that only personal experiences and subjective product reviews are shared in here. We do not claim ownership of any posted content. We do not censor what people post because we value and respect free speech. However, we distance ourselves from the comments and statements - we cannot nor do we want to judge them as correct or incorrect. In case you feel inspired by a contribution, we ask you to consult a medical doctor or any acknowledged and certified professional who can prove the truth of the matter asserted.

create review
average customer rating:


180


4,6 out of 5 Stars

120 reviews (german), 60 reviews (english)


Top comments
Show newest comments first
Spectrum of Homeopathy