Childhood And Psyche - Spectrum Of Homeopathy 01/2010

Fear - Autism - Aggression - ADHD

First issue: Childhood and Psyche

The first issue was published in April 2010. It focuses on mental and emotional problems in children. Through many cases, specific approaches will be demonstrated as well as the relationship between different remedy families. These are, for example, butterfly remedies in ADHS or lanthanides in autism. The scope of homeopathic practice is being expanded through "small" remedies like Anantherum, Gallicum acidum, and newly-proven remedies like: Fenoterol, Ozone, and Placenta. Well- known homeopaths such as Louis Klein, Massimo Mangialavori, Rajan Sankaran, Anne Schadde, Jan Scholten, and many other known authors stand for the quality of this issue.

The whole spectrum

There have been many advances in the homeopathic field in recent decades – from the use of modern software, expanding and systematizing our materia medica, to the discovery of new methodology principles. It is Narayana Publishers' wish to work hand in hand with these developments in a specific way. We know from experience that the future of our tradition-rich healing method lies in the active integration of a range of trends within homeopathy. Because of this, we, as specialist publishers, want to produce a modern and open-minded journal to help contribute to this synthesis. The name "Spectrum of Homeopathy" beautifully illustrates our aim of presenting the rich diversity present in homeopathy; from Hahnemann to Scholten, from Boenninghausen to Sankaran.

Diversity, knowledge, experience, and renowned autors.

Three key aspects underpin our new journal: thorough clinical experience, succinct materia medica knowledge, and a diversity of methods built on the foundations of classical homeopathy. Worlwide renowned homeopaths have welcomed our journal project and offered to contribute to the successful launch of the first issue, in Fall 2009, with the title "Childhood and Psyche." Volume One will feature contributions from Jan Scholten, Rajan Sankaran, Massimo Mangialavori, Louis Klein, Anne Schadde, Frans Kusse, Patricia Le Roux, Ulrich Welte, Amy Rothenberg, Christoph Schubert, Andreas Richter, Jürgen Hansel, and Jürgen Weiland, on the themes of autism, ADHD, anxiety, and behavioral problems.
---
---
Jürgen Weiland: Pathway into Life
Placenta humana for children who have fundamental difficulties establishing contact with the world during certain developmental phases.
---
---
Jan Scholten: Overcoming the False Self
The suitability of the rare earths for children with a diagnosis of PDD-NOS is illustrated with sample cases of Lanthanum phosphoricum and Cerium carbonicum.
---
Louis Klein: The Orchid Project
The orchid family can yield very good results for autism, other brain disorders, and neurobehavioral developmental disorders, including Attention Deficit Hyperactivity Disorder (ADHD).
---
---
---
---
---
---
---
Jürgen Hansel: Struggle for Contact
Fears of contact and aggressive behavioral disturbances prevent social integration outside the family patchwork. A case for Gallicum acidum.
---
---
---
Pages:
Childhood And Psyche - Spectrum Of Homeopathy 01/2010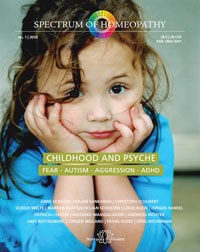 ---
customer reviews of Spectrum of Homeopathy
With this forum, we'd like to offer our customers the opportunity to share their experiences with our products. We'd like to point out that only personal experiences and subjective product reviews are shared in here. We do not claim ownership of any posted content. We do not censor what people post because we value and respect free speech. However, we distance ourselves from the comments and statements - we cannot nor do we want to judge them as correct or incorrect. In case you feel inspired by a contribution, we ask you to consult a medical doctor or any acknowledged and certified professional who can prove the truth of the matter asserted.

create review
average customer rating:


180


4,6 out of 5 Stars

120 reviews (german), 60 reviews (english)


Top comments
Show newest comments first
Spectrum of Homeopathy