Veterinary Congress - April 19-21, 2013

A very special Veterinary Congress will be held in Badenweiler, Germany from April 19-21, 2013. A unique combination of leading animal homeopaths from around the world will be there to discuss key topics in the homeopathic treatment of dogs, cats, horses and sheep.

The well-known English vet Tim Couzens will talk about the homeopathic treatment of the main complaints affecting horses. The popular vet Christiane Krüger will speak about horse personalities and their physical character, drawing from a treasure trove of more than 30 years experience in the homeopathic treatment of humans and animals. Gertrud Pysall will speak about using motivational training with horses.

The English veterinary homeopath John Saxton presents the most important illnesses found in dogs, focusing particularly on the miasmatic aspects. The English vet Sue Armstrong has amassed a wealth of experience with cancer in dogs, and will present some cases from her own practice.

Dominique Fraefel is presenting the major remedy Lycopodium in cats with a differential diagnosis comparing other important remedies.

The well-known homeopath and teacher Rosina Sonnenschmidt will talk about miasmatic and constitutional homeopathy in the treatment of parrots.

Anke Henne will be talking about her experience of homeopathy and leeches in the treatment of horses.

Gilberte Farvre will show how even sheep can benefit from homeopathy.

This will be a unique event for veterinary homeopaths.

Newly added speakers:
Christiane Krüger und Rosina Sonnenschmidt

Vicki Mathison will not be presenting.

Overview of Programme

Friday, April 19
9 am - 12.30 pm
Tim Couzens

Treatment of the Chief Complaints Affecting Horses:
Colic, laminitis, hoof disease, summer eczema, skin disease, headshaking

2 pm - 5 pm
Christiane Krüger

Horse personalities and their physical character.


5 pm - 6 pm
Gertrud Pysall

The language of the horse. She will present impressive examples on video of how dialog between horse and human can be achieved.
Her motivational training uses only gestures from the language of the horse. For example, the expression of friendship: walking together/side by side.


Saturday, April 20
9 am - 12.30 pm
John Saxton

The Most Important Illnesses of Dogs:
John Saxton presents the most important illnesses found in dogs, focusing particularly on the miasmatic aspects and the use of bowel nosodes.


2 pm - 5 pm
Sue Armstrong
Cancer in Dogs:
Sue Armstrong, who has amassed a wealth of experience with cancer in dogs, shows some cases from her busy practice.
Sunday, April 21

9 am - 10 am


Dominique Fraefel

Lycopodium in Cats and Other Remedies in the Homeopathic Treatment of Small Animals:
Dominique Fraefel is known for his impressive knowledge of the materia medica, which he presents in a lively and memorable way.

10 am - 11.20 pm

Gilberte Favre

The experienced Swiss homeopath describes the homeopathic treatment of the main illnesses in sheep with many valuable tips from her practice.



11.40 am - 12.30 pm
Dominique Fraefel
Summary
2 pm - 3.40 pm
Rosina Sonnenschmidt
Miasmatic and constitutional homeopathy in the treatment of parrots (psittacine birds). Treating birds means being able to look through apparent asymptomatic states to acute and chronic events.
Rosina Sonnenschmidt introduces cases of healed parrots, which show the typical diseases affecting these species in captivity and how they can be treated holistically.

4 pm -5 pm

Anke Henne

Leech Treatment for Horses:
Anke Henne talks about her experience of homeopathy and leeches in the treatment of horses for indications such as laminitis or abscesses.
Speakers


Tim Couzens

Tim Couzens is one of the leading homeopathic vets in England and has gathered a generous amount of clinical knowledge on how to work with "small" means.

He studied at the Royal London Homeopathic Hospital, where he qualified in 1995. He then opened his Holistic Veterinary Medicine Centre, which specializes in homeopathy, phytotherapy, acupuncture, Bach flower remedies, and nutrition. He practices together with Peter Gregory.

Tim Couzen's special interest is the homeopathic treatment of horses. He has appeared on television and regularly publishes articles on the topic of alternative medicine in various specialist journals.


Christine Krüger

A certified naturopath and practicing vet for homeopathy and acupuncture, Christiane Kruger has over 25 years of classical homeopathic experience in the treatment of humans and animals. She is the author of numerous publications and lectures. For more than 15 years, she has been active as a teacher with proven teaching methods in Germany and Switzerland, and follows the direction of G. Vithoulkas on the basis of "pure classical doctrine" by Samuel Hahnemann and Dr. Künzli.




John Saxton


John Saxton is the "Grand Sire" of English homeopathy. He finished his studies at the Royal Veterinary College in 1964 in London, after which he opened his veterinary practice. At the end of the 1970s, he became interested in homeopathy. In 1988 he joined the Faculty of Homeopathy, becoming a full member in 1996. In 2005 he was elected president.

After almost 40 years of general practice, he now runs a homeopathic consultancy. In addition, he writes, teaches, and conducts research into homeopathy. He holds lectures internationally for physicians, veterinarians, and nurses. John is a teacher and researcher at the Faculty of Homeopathy and the International Association for Veterinary Homeopathy. He is known for his works concerning miasms and bowel nosodes.




Sue Armstrong

Sue Armstrong qualified from Cambridge Veterinary School in 1984 and worked first in Oxford and then in a partnership in Leeds for twelve years. She set up her dream practice Balanced Being in 2003 which has homeopathy as its core philosophy. It is also a centre of excellence for conventional medicine and surgery which Sue uses as complementary to the homeopathic foundation allowing her to treat small animals from birth to death in a fully integrated way.

Sue studied homeopathy at the Royal London Homeopathic Hospital and with the HPTG. She obtained VetMFHom status in 1996. Sue went through teaching training with the HPTG and has lectured extensively around the world from the USA, Europe and Australia. She continually strives to enhance her homeopathic knowledge and has studied with George Vithoulkas, Rajan Sankharan and Jeremy Scherr. Sue is a past President of the British Holistic Veterinary Medicine Association.

Sue Armstrong is known for her extensive knowledge concerning the treatment of cancer in animals.


Dominique Fraefel


Dominique Fraefel is one of the most experienced Swiss homeopathic vets. He is known for his meticulous work style and vivid remedy pictures. Fraefel studied veterinary medicine from 1990 - 1997 at the University of Zürich.

He has been training in classical homeopathy since 1992 (approx. 3000 h) taking instruction from, through the Swiss Association of Homeopathic Vets (SVHA), Mohinder Jus (SHI) and George Vithoulkas and has attended numerous seminars.

Dominique has given lectures in and out of the country since 1999, as wells as presented at various seminars, with other homeopaths such as Henny Heudens-Mast, Ulrike Schnurrenberger and Mohinder Jus at the Swiss Veterinary Association for Acupuncture and Homeopathy, Academy of Veterinary Homeopathy and Austrian Association for Homeopathic Veterinary Medicine.


Rosina
Sonnenschmidt
Rosina Sonnenschmidt was one of the first therapists who focused on holistic therapy for birds. For over 15 years, she has treated tropical birds, especially parrots, miasmatically and constitutionally. At the same time she developed animal kinesiology, which is now offered as training for veterinarians.

Due to her achievements, she has been invited to many international congresses, such as to IVAS in Spiez in 1996, IVAS in 2000 (Montreal), AHVMA in 2001 (New Orleans) and AHVMA in 2002 (Hawaii). From 1996 to 2006, she has been training veterinarians in animal miasmatic kinesiology and homeopathy. She is an Honorary Member of the GGTM (Society for gnazheitliche veterinary medicine). She is the author of numerous works, including the book The Holistic Treatment of Birds and Pets expected in September 2013.


Gilberte Favre


Gilberte Favre was a professional musician for 20 years before she engaged in her passion for the natural treatment of animals. She had her own sheep breeding business for 10 years. She completed her alternative healing studies from 2000 - 2004 in Zürich in the field of classical homeopathy. In 2004 she established her own practice for human homeopathy in Aarwangen.

She is a popular lecturer and teaches regularly at various schools and institutions of pythotherpy and homeopathy. In addition, she has given private homeopathic consulting at organic cattle breeding ranches as well as at sheep breeding ranches in Germany and Switzerland.



Anke Henne

Anke Henne completed her training as a fully qualified groom and worked at several thoroughbred stud farms as a race course trainer and at a veterinary hospital. She also finished her animal homeopathic studies.

Anke Henne has always had a connection to animals, especially to horses. She has been an equestrian since she was 4 years old and owns 4 horses, 2 retired horses, 2 dogs and 10 chickens. She established her own practice in 1996.


Gertrud Pysall

Gertrud Pysall has been involved with the behavior of domesticated horses for more than 20 years. In 1990 she and her husband set up their first riding school. In 1994 they acquired larger premises for a riding school in  Spenge (North Rhine-Westphalia in Germany), with enough room for 70 horses and ponies, including a large riding area and plenty of grazing. This gave her the opportunity to intensively investigate the multifaceted communication of horses. She passes on her insights to horse-lovers with her Motiva training courses. She is the author of Was Pferde wollen ("What Horses Want" - German only) on how to sensitively and intelligently deal with horses.

Seminar times
Friday, April 19, 2013: 9 am - 6 pm
There will be a 1-1/2 hr. lunch break and 20 min. coffee breaks in the morning and afternoon

Sunday, April 20-21, 2013, 9 am - 5 pm
Each day there will be 1-1/2 hr. lunch breaks and 20 min. coffee breaks in the morning and afternoon

Fees:
All 3 days, without simultaneous translation: € 300
All 3 days, with simultaneous translation: € 350

Individual days without translation: € 110
Individual days with translation: € 150

The presentations will be held in either English or German, depending on the nationality of the speaker, and simultaneously translated into the other language.

Your reservation is binding. The fee will be debited to your account 6 weeks before the congress starts. If you cancel your booking more than 2 weeks before the congress opens, you will be charged a cancellation fee of € 25; no refunds can be made if you cancel less than two weeks beforehand. Your seat will only be confirmed when we receive your payment details (bank or credit card data).

On Saturday evening, we would like to issue a warm invitation for you to visit our publishing company in Kandern. Here you will be greeted with a welcome drink and snacks, and the authors will be available to sign your books. You are also very welcome to browse the four floors housing our extensive book collection in peace. We will provide free bus service from Badenweiler to Kandern and back (departs from Badenweiler at 7 pm, journey lasts 20 minutes; departure from Kandern back to Badenweiler at 9 pm). Please tell us whether you would like to make use of the free bus service on the booking form above.

Registration via the internet or to: Narayana Publishers, Blumenplatz 2, 79400 Kandern,
Tel.: +49 7626 974 970-0, Fax: +49 7626 974 970-9, info@narayana-publishers.com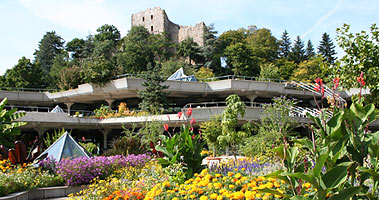 Congress Venue
(located between Freiburg, Germany and Basel, Switzerland with good transport links)
Kurhaus (large halll)
Schlossplatz 2
79410 Badenweiler, Germany
Map of Badenweiler
How to get there

Nearest airport: Basel Mulhouse (approx. 40 km away from Badenweiler)
Please note: EasyJet flies to Basel Airport from various destinations like Hamburg, Berlin, Amsterdam, Barcelona, Lisbon, Liverpool, London, Madrid and Rome. Prices start from € 29.
Click on this link for information about the airport shuttle from Basel to Bad Krozingen. The journey takes about 45 min. by car/shuttle.
By car
Take the A5 (motorway) until you reach the exit 'Müllheim/Neuenburg/Badenweiler' (exit 65). From there, follow the signs to Badenweiler (around 12 km). In Badenweiler drive in the direction of 'Parkplatz West/Parkhaus'. From there, you can walk to the "Kurhaus" (ca. 200m).
By train and bus
Take the train to Müllheim (Baden). From there, you can catch Bus No. 111 to the 'Evangelisch (ev.) Kirche' bus stop in Badenweiler. From there, walk approx. one minute in the driving direction of the bus. You will reach a large square with a fountain, and on you right you will see the "Kurhaus" (terraced building).
Time-table for the Müllheim – Badenweiler Bus
(In German only - but should be self-explanatory.)
The ride last about 21 minutes.
Departure from Müllheim
Departure from Badenweiler ev. Kirche (church)
Ride-sharing
Are you offering or looking for an opportunity to travel with someone else? If so, please contact us at: Narayana Publishers, Blumenplatz 2, 79400 Kandern, Tel.: +49 7626 - 974 970-0, Fax: +49 7626 - 974 970-9, info@narayana-publishers.com
Accomodations
Overview of hotels in Badenweiler