Gold Series - Spectrum of Homeopathy 01/2018
Wyka Evelyn Feige: The king's lost daughter
The case of an African asylum seeker who sees herself as a lost child shows the heaviness and syphilitic hopelessness with the typical suicidal thoughts of Aurum. The profound grief following her father's murder and the emotional hardening with corresponding abdominal symptoms indicate Aurum muriaticum natronatum. During treatment with this remedy her depression and physical complaints dramatically and rapidly improve.
Keywords: abortion, Aurum muriaticum, Aurum muriaticum natronatum, depression, fear, Gold series, miasm, ovarian tumour, sleep disturbance, suicide, syphilinism, trauma
Wyka Evelyn Feige: The king's lost daughter

Gold Series - Spectrum of Homeopathy 01/2018
Wyka Evelyn Feige: The king's lost daughter

The case of an African asylum seeker who sees herself as a lost child shows the heaviness and syphilitic hopelessness with the typical suicidal thoughts of Aurum. The profound grief following her father's murder and the emotional hardening with corresponding abdominal symptoms indicate Aurum muriaticum natronatum. During treatment with this remedy her depression and physical complaints dramatically and rapidly improve.

Keywords: abortion, Aurum muriaticum, Aurum muriaticum natronatum, depression, fear, Gold series, miasm, ovarian tumour, sleep disturbance, suicide, syphilinism, trauma
---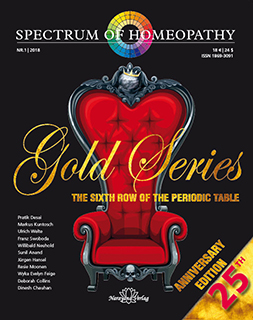 plus shipment:
2,90 EUR per Issue
Overview of this edition of spectrum homeopathy