Gold Series - Spectrum of Homeopathy 01/2018
Pratik Desai: What if i say something wrong
After reviewing all the elements of the Gold series and their relationship to the central issue of responsibility and power, the author presents a case history to demonstrate how to recognise even the rare elements of the sixth row by using the stages of the periodic table. In the case of a pigmentation disorder in a young girl, the repertorisation initially points to Barium carbonicum. Although the patient is insecure, she is not so dependent and lacking in self-sufficiency as Barium. She doubts her own abilities and puts things off due to fear of doing something wrong. This pattern is typical of stage 5, leading to the remedy Tantalum.
Keywords: Astatine, Aurum, Barium, Bismuth, Caesium, Iron series, Gold series, Hafnium, hyperpigmentation, hyperthyreosis, Iridium, Lanthanum, Mercurius, Osmium, Platinum, Plumbum, Polonium, Radon, Rhenium, Silver series, Tantalum, Thallium, Tungsten
Pratik Desai: What if i say something wrong

Gold Series - Spectrum of Homeopathy 01/2018
Pratik Desai: What if i say something wrong

After reviewing all the elements of the Gold series and their relationship to the central issue of responsibility and power, the author presents a case history to demonstrate how to recognise even the rare elements of the sixth row by using the stages of the periodic table. In the case of a pigmentation disorder in a young girl, the repertorisation initially points to Barium carbonicum. Although the patient is insecure, she is not so dependent and lacking in self-sufficiency as Barium. She doubts her own abilities and puts things off due to fear of doing something wrong. This pattern is typical of stage 5, leading to the remedy Tantalum.

Keywords: Astatine, Aurum, Barium, Bismuth, Caesium, Iron series, Gold series, Hafnium, hyperpigmentation, hyperthyreosis, Iridium, Lanthanum, Mercurius, Osmium, Platinum, Plumbum, Polonium, Radon, Rhenium, Silver series, Tantalum, Thallium, Tungsten
---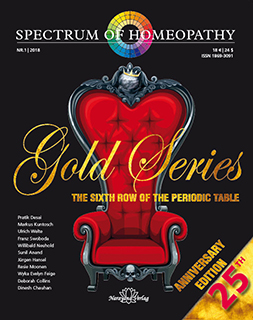 plus shipment:
2,90 EUR per Issue
Overview of this edition of spectrum homeopathy