Gold Series - Spectrum of Homeopathy 01/2018
Ulrich Welte: Don't forget the rare salts
In a case of occlusive peripheral and coronary artery disease, the remedy Bismuth subsalicylicum combines the destructive stage 15 of the Gold series, related to the heart and circulation, with the blood-thinning quality of salicylic acid. The astonishing healing reaction confirms the hypothesis that this salt in homeopathic potencies has an effect on the blood vessels. The author has found the remedy Bismuth oxydatum to be helpful in threats of suicide involving an element of blackmail, as shown in several short case studies.
Keywords: atherosclerosis, Bismuth, Bismuth oxydatum, Bismuth subsalicylicum, colour preference, depression, Gold series, salicylic acid, Secale, suicide, threatened suicide
Ulrich Welte: Don't forget the rare salts

Gold Series - Spectrum of Homeopathy 01/2018
Ulrich Welte: Don't forget the rare salts

In a case of occlusive peripheral and coronary artery disease, the remedy Bismuth subsalicylicum combines the destructive stage 15 of the Gold series, related to the heart and circulation, with the blood-thinning quality of salicylic acid. The astonishing healing reaction confirms the hypothesis that this salt in homeopathic potencies has an effect on the blood vessels. The author has found the remedy Bismuth oxydatum to be helpful in threats of suicide involving an element of blackmail, as shown in several short case studies.

Keywords: atherosclerosis, Bismuth, Bismuth oxydatum, Bismuth subsalicylicum, colour preference, depression, Gold series, salicylic acid, Secale, suicide, threatened suicide
---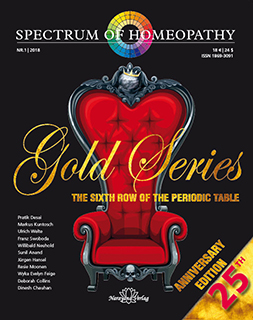 plus shipment:
2,90 EUR per Issue
Overview of this edition of spectrum homeopathy
Spectrum of Homeopathy