Gold Series - Spectrum of Homeopathy 01/2018
Ulrich Welte: Difficult legacy
Four cases with differing clinical pictures all feature similar problems of withdrawal from authority with the transfer of power in positions of leadership. Depending on the area where such problems occur, various Thallium salts are indicated. These can work both for those who have to relinquish power and those who have difficulty taking it over.
Keywords: alopecia areata, carpal tunnel syndrome, colour preference, depression, Gold series, hair loss, handwriting, hydrocele, I Ching, retinal thrombosis, sciatica, Thallium, Thallium carbonicum, Thallium oxydatum, Thallium sulphuricum, weak eyesight
Ulrich Welte: Difficult legacy

Gold Series - Spectrum of Homeopathy 01/2018
Ulrich Welte: Difficult legacy

Four cases with differing clinical pictures all feature similar problems of withdrawal from authority with the transfer of power in positions of leadership. Depending on the area where such problems occur, various Thallium salts are indicated. These can work both for those who have to relinquish power and those who have difficulty taking it over.

Keywords: alopecia areata, carpal tunnel syndrome, colour preference, depression, Gold series, hair loss, handwriting, hydrocele, I Ching, retinal thrombosis, sciatica, Thallium, Thallium carbonicum, Thallium oxydatum, Thallium sulphuricum, weak eyesight
---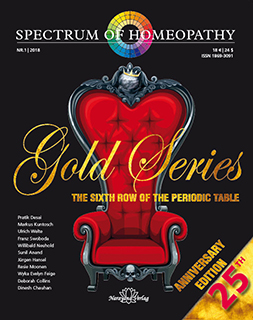 plus shipment:
2,90 EUR per Issue
Overview of this edition of spectrum homeopathy