Gold Series - Spectrum of Homeopathy 01/2018
Ulrich Welte: Am i really the boss?
A trained mechanic feels he is not up to his new role as boss, developing insomnia and physical symptoms. When treated with Hafnium he loses his fear of confrontation and is able to grow into his leadership role. After later taking on new responsibilities he again suffers renewed setbacks which each time can be successfully treated with Hafnium.
Keywords: ankylosing spondylitis, asthma, Barium, Caesium, colour preference, Gold series, Hafnium, Lanthanides
Ulrich Welte: Am i really the boss?

Gold Series - Spectrum of Homeopathy 01/2018
Ulrich Welte: Am i really the boss?

A trained mechanic feels he is not up to his new role as boss, developing insomnia and physical symptoms. When treated with Hafnium he loses his fear of confrontation and is able to grow into his leadership role. After later taking on new responsibilities he again suffers renewed setbacks which each time can be successfully treated with Hafnium.

Keywords: ankylosing spondylitis, asthma, Barium, Caesium, colour preference, Gold series, Hafnium, Lanthanides
---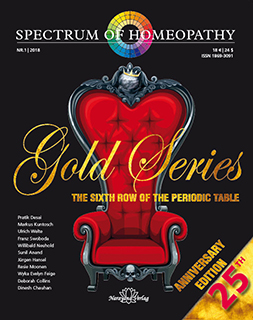 plus shipment:
2,90 EUR per Issue
Overview of this edition of spectrum homeopathy