Gold Series - Spectrum of Homeopathy 01/2018
Sunil Anand: Critical and mistrustful
The author presents his experience of the typical personality traits and clinical indications for all elements of the Gold series, supplemented with a practical overview table. These elements are overwhelmingly assigned to the syphilitic miasm and are frequently associated with severe pathology affecting critical organs. Two cases of renal arterial stenosis and spina bifida show the deep action of the heavy metals. In the Iridium case the analysis closely follows the series and stages of the periodic table whereas the remedy choice of the homeopathically familiar Plumbum is based on the repertorised symptoms.
Keywords: Astatinum, Aurum, Barium, Bismuth, Caesium, Gold series, Hafnium, hypertension, Iridium, Lanthanum, Mercury, Osmium, Platinum, Plumbum, Polonium, Radon, renal artery stenosis, renal insufficiency, Rhenium, spina bifida, syphilinism, Tantalum, Thallium, Tungsten
Sunil Anand: Critical and mistrustful

Gold Series - Spectrum of Homeopathy 01/2018
Sunil Anand: Critical and mistrustful

The author presents his experience of the typical personality traits and clinical indications for all elements of the Gold series, supplemented with a practical overview table. These elements are overwhelmingly assigned to the syphilitic miasm and are frequently associated with severe pathology affecting critical organs. Two cases of renal arterial stenosis and spina bifida show the deep action of the heavy metals. In the Iridium case the analysis closely follows the series and stages of the periodic table whereas the remedy choice of the homeopathically familiar Plumbum is based on the repertorised symptoms.

Keywords: Astatinum, Aurum, Barium, Bismuth, Caesium, Gold series, Hafnium, hypertension, Iridium, Lanthanum, Mercury, Osmium, Platinum, Plumbum, Polonium, Radon, renal artery stenosis, renal insufficiency, Rhenium, spina bifida, syphilinism, Tantalum, Thallium, Tungsten
---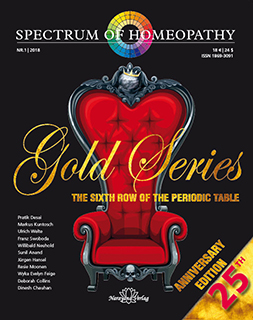 plus shipment:
2,90 EUR per Issue
Overview of this edition of spectrum homeopathy