Genus epidemicus - Spectrum of Homeopathy 01/2021
Stefanie Jahn: Pandemic Déjá-vu
The progress and circumstances of Spanish flu a hundred years ago and the accompanying social discourse have many parallels to the current Covid pandemic. This is also true of contemporary reports on the homeopathic treatment of this pandemic. The spectrum of the epidemic remedies used at that time and today has many overlaps. According to the available data, homeopathy was helpful when used in the early stages of treatment but less effective for pneumonia and other complications. The data is often hard to assess, illustrating the importance of robust case documentation.

KEYWORDS: Belladonna, Bryonia, coronavirus, Covid-19, encephalitis lethargica, epidemics, Eupatorium perfoliatum, documentation, Gelsemium, genus epidemicus, influenza, Influenzinum, Ipecacuanha, nosode, post-Covid, Rhus toxicodendron, Spanish flu, Veratrum viride
Stefanie Jahn: Pandemic Déjá-vu

Genus epidemicus - Spectrum of Homeopathy 01/2021
Stefanie Jahn: Pandemic Déjá-vu

The progress and circumstances of Spanish flu a hundred years ago and the accompanying social discourse have many parallels to the current Covid pandemic. This is also true of contemporary reports on the homeopathic treatment of this pandemic. The spectrum of the epidemic remedies used at that time and today has many overlaps. According to the available data, homeopathy was helpful when used in the early stages of treatment but less effective for pneumonia and other complications. The data is often hard to assess, illustrating the importance of robust case documentation.


KEYWORDS: Belladonna, Bryonia, coronavirus, Covid-19, encephalitis lethargica, epidemics, Eupatorium perfoliatum, documentation, Gelsemium, genus epidemicus, influenza, Influenzinum, Ipecacuanha, nosode, post-Covid, Rhus toxicodendron, Spanish flu, Veratrum viride
---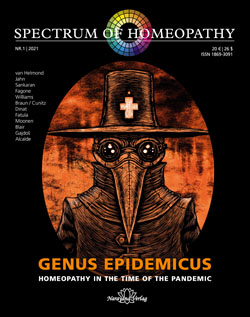 plus shipment:
2,90 EUR per issue
Overview of this edition of spectrum homeopathy