CNS NEUROLOGICAL DISEASES - Spectrum of Homeopathy 03/2020

Neurology is an area of medicine with excellent diagnostic capabilities yet often unsatisfactory treatment options. Many illnesses of the nervous system cannot be treated at all whereas the medications for others such as epilepsy are associated with side effects that can considerably impact normal life. The treatment of various forms of epilepsy, especially in children, is therefore one of the most rewarding tasks undertaken by homeopaths. Seizure disorders in the early maturation of the human nervous system are especially responsive to homeopathic treatment. Cicuta virosa is a common remedy of first choice, as shown by Anna Koller-Wilmking.

In many cases epileptic fits are associated with developmental delay. Homeopathic treatment can then help the patient catch up on the missed developmental steps, even if there is an associated severe disturbance of the central nervous system, as in the case presented by Olga Fatula. This and much other neurological illness can evidently be helped by many manual approaches such as physiotherapy and ergotherapy. Sigrid Lindemann describes a successful integrated treatment concept for two patients with rare congenital neurocutaneous syndromes. Anne Schadde presents the case of a young girl with autism, retreating into her own peaceful inner world after a very stressful birth, who comes out of her shell with Helium.

Homeopathy has achieved similar success in many cases of multiple sclerosis as it has with seizure disorders and developmental delay. We have already covered this in a series of earlier articles in SPECTRUM OF HOMEOPATHY. Here we supplement this aspect with two cases that emphasise the psychosocial aspects of autoimmune disease. Using his Plant theory, Jan Scholten analyses the various aspects of the case of a musician feeling excluded by his illness to prescribe a remedy that could otherwise not have been found: Eremophila decipiens. In Karim Adal's contribution the neurological attacks develop against a backdrop of aggression and violence in the family. Similarly the patients in Markus Kuntosch's contribution suppress their feelings, thereby falling ill. But they develop stubborn neuralgias and sensation disorders that respond very well to Mezereum. Rajan Sankaran presents a case of multiple sclerosis and various allergies, treated by discovering the underlying pattern of anxiety present since her youth. And in the case presented by Chatterjee and Chauhan, the patient's trembling and lack of self-confidence lead to a mineral prescription of Alumina silicata.

Homeopathic lead and its compounds are especially indicated for neurodegenerative disease with a syphilitic character. Bob Blair describes a case of Plumbum with polyneuropathy to explain the relationship of this destructive miasm to the energy of fire in his developmental model, which he presents here for the first time in SPECTRUM. We see a similar energy in the remedy group extensively studied by Hans Eberle and Friedrich Ritzer. In several of their own provings of various fungal remedies, they observed sometimes severe disturbances of brain function reminiscent of dementia. As their cases graphically illustrate, the clinical applications of these remedies are for dementia-like illness as well for injury and infection of the CNS. It is encouraging to see the results of accurate homeopathic prescriptions in an area of medicine which is usually considered incurable.
---
CNS NEUROLOGICAL DISEASES - Spectrum of Homeopathy 03/2020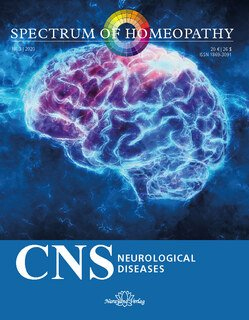 ---
customer reviews of Spectrum of Homeopathy
With this forum, we'd like to offer our customers the opportunity to share their experiences with our products. We'd like to point out that only personal experiences and subjective product reviews are shared in here. We do not claim ownership of any posted content. We do not censor what people post because we value and respect free speech. However, we distance ourselves from the comments and statements - we cannot nor do we want to judge them as correct or incorrect. In case you feel inspired by a contribution, we ask you to consult a medical doctor or any acknowledged and certified professional who can prove the truth of the matter asserted.

create review
average customer rating:


180


4,6 out of 5 Stars

120 reviews (german), 60 reviews (english)


Top comments
Show newest comments first
Spectrum of Homeopathy