Allergies - Spectrum of Homeopathy 03/2013

• Pollens • Animals • Foods

This issue of SPECTRUM looks at a very widespread problem in modern societies. In the industrial nations approximately 25% of the population now suffers from allergies, and the figure is still rising. Apparently harmless substances such as pollens, foodstuffs, or animal hair trigger an overreaction of the immune system in sensitive people, resulting in acute or chronic illness. The complaints range from mild local symptoms affecting the nose, eyes, or skin through life-threatening anaphylactic shock. Ever more children and adults are now developing cross-allergies that are particularly difficult to treat.

Here we present homeopathic alternatives to the constant use of antiallergic medication or the long-drawn-out process of desensitization. We focus particularly on the chronic manifestations of atopy: asthma and eczema. Homeopathy can play a prominent role in treating these illnesses, especially in childhood.
---
Allergies - Spectrum of Homeopathy 03/2013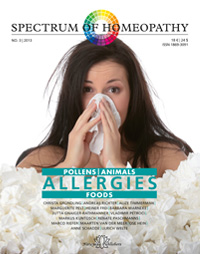 ---
customer reviews of Spectrum of Homeopathy
With this forum, we'd like to offer our customers the opportunity to share their experiences with our products. We'd like to point out that only personal experiences and subjective product reviews are shared in here. We do not claim ownership of any posted content. We do not censor what people post because we value and respect free speech. However, we distance ourselves from the comments and statements - we cannot nor do we want to judge them as correct or incorrect. In case you feel inspired by a contribution, we ask you to consult a medical doctor or any acknowledged and certified professional who can prove the truth of the matter asserted.

create review
average customer rating:


177


4,6 out of 5 Stars

118 reviews (german), 59 reviews (english)


Top comments
Show newest comments first
Spectrum of Homeopathy