Miasms - Spectrum Of Homeopathy 03/2010

1828-2010

For many homeopaths, Hahnemann's idea of miasms – which has been repeatedly reformulated right up to the present day – is a vague, outdated idea, whereas other homeopaths base their entire approach on it. The differing interpretations and applications of the idea of "miasms" often invite controversy and cause confusion.
"Spectrum of Homeopathy" aims to demonstrate the development of the wide range of theories from 1828 to 2010, showing their practical application with typical case histories. Rajan Sankaran's comment sums up what we hope to achieve: "For me, miasm is basically something that should be practical.
"The spectrum of the contributions ranges from the traditional concepts of scrofula and the tubercular miasm via the study of miasms as the precursor of modern trauma theory through to current models of miasm for case analysis by remedy group. With authors such as Louis Klein, Rosina Sonnenschmidt, Jan Scholten, Rajan Sankaran, Mike Keszler, Grant Bentley, Markus Gantenbein, and Alok Pareek.
---
Jörg Wichmann: The Master's Frustration
Samuel Hahnemann's attempts to think beyond the simile: reflections on the 200th anniversary of the Organon, the theory of miasms, and homeopathic practice.
---
---
Gurmej Virk: Stereotyped Reaction
Sankaran's miasms describe the dynamic and intensity with which different people experience their illness and react to stress and challenge.
---
---
Mike Keszler: Zero Feelings
A teenager's reaction to her multiple sclerosis is remarkably devoid of emotion. Her case leads to the sensation of the Poppy family and the sycotic miasm.
---
---
---
---
---
Markus Gantenbein: The Tubercular Miasm
The tubercular miasm was defined by J. H. Allen, who called it "pseudo-psora." With this miasm, the homeopath will often find a disposition to tuberculosis in the family history.
---
Alok Pareek: Prelude To Cancer
Modern cancer treatment is unfortunately far from infallible. The study of the cancer miasm can contribute to contemporary oncology.
---
Pages:
Miasms - Spectrum Of Homeopathy 03/2010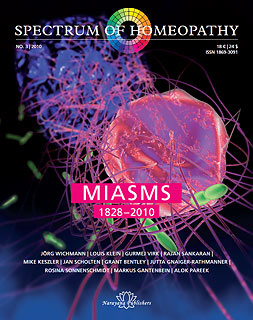 ---
customer reviews of Spectrum of Homeopathy
With this forum, we'd like to offer our customers the opportunity to share their experiences with our products. We'd like to point out that only personal experiences and subjective product reviews are shared in here. We do not claim ownership of any posted content. We do not censor what people post because we value and respect free speech. However, we distance ourselves from the comments and statements - we cannot nor do we want to judge them as correct or incorrect. In case you feel inspired by a contribution, we ask you to consult a medical doctor or any acknowledged and certified professional who can prove the truth of the matter asserted.

create review
average customer rating:


177


4,6 out of 5 Stars

118 reviews (german), 59 reviews (english)


Top comments
Show newest comments first
Spectrum of Homeopathy