Life And Death - Spectrum of Homeopathy 02/2013

Radioactive Remedies

The Actinides are economically and politically of great significance – not only since Fukushima. The terra incognita of the seventh row is now being increasingly well charted for homeopathy. The way in which the characteristic tension between high energy potential and threatening decay can be used for homeopathy is shown by case histories and proving reports, helping to deepen our rudimentary knowledge of a relatively unknown group of modern remedies.

The book on the radioactive remedies of the Uranium series by the renowned pediatrician Patricia Le Roux presents the themes of this remedy group to a wide circle of homeopaths. The lives of these patients are often disrupted by severe events such as suicide or severe illness, or catastrophes such as earthquakes or nuclear accidents. At the same time these people have exceptional intuition. The children are precocious and well ahead of their years. Patricia Le Roux died in a tragic accident before the publication of her work, which represents a valuable legacy to homeopathy.

This issue of SPECTRUM is dedicated to her.
---
---
Ulrich Welte: Chain Reactions
The themes of the Actinides and the Uranium series, illustrated by three selected cases of Plutonium nitricum, Curium muriaticum, and Uranium nitricum
---
Patricia Le Roux: Way Ahead
Patricia Le Roux grasped the issues of the radioactive remedies in her pediatric cases with great clarity and wisdom: for example, Thorium nitricum and Actinium nitricum.
---
---
---
---
---
---
---
---
---
---
Pages:
Life And Death - Spectrum of Homeopathy 02/2013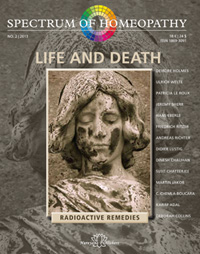 ---
customer reviews of Spectrum of Homeopathy
With this forum, we'd like to offer our customers the opportunity to share their experiences with our products. We'd like to point out that only personal experiences and subjective product reviews are shared in here. We do not claim ownership of any posted content. We do not censor what people post because we value and respect free speech. However, we distance ourselves from the comments and statements - we cannot nor do we want to judge them as correct or incorrect. In case you feel inspired by a contribution, we ask you to consult a medical doctor or any acknowledged and certified professional who can prove the truth of the matter asserted.

create review
average customer rating:


175


4,7 out of 5 Stars

116 reviews (german), 59 reviews (english)


Top comments
Show newest comments first
Spectrum of Homeopathy