Reptiles - Spectrum of Homeopathy 02/2018
Sigrid Lindemann: Exuberant posers
The author describes two cases of remedies from the lizards (Lacertilla) with maladjusted children displaying behavioural problems. They always want to be the best, display little sympathy, and quickly feel under attack, at which point they become aggressive. They both have unusual interests and a particularly strong affinity to snakes and lizards. This relatively unknown remedy group is, as the author has found out, an important differential diagnosis to the snake remedies in the case of hyperactive, eccentric, and maladjusted children.
Keywords: Agamas, aggression, Brachypelma smithi, Calotes versicolor, Chlamydosaurus kingii, hyperactivity, hypersexuality, Lacerta agilis, lizards, Mygale lasiodora, reptiles
Sigrid Lindemann: Exuberant posers

Reptiles - Spectrum of Homeopathy 02/2018
Sigrid Lindemann: Exuberant posers

The author describes two cases of remedies from the lizards (Lacertilla) with maladjusted children displaying behavioural problems. They always want to be the best, display little sympathy, and quickly feel under attack, at which point they become aggressive. They both have unusual interests and a particularly strong affinity to snakes and lizards. This relatively unknown remedy group is, as the author has found out, an important differential diagnosis to the snake remedies in the case of hyperactive, eccentric, and maladjusted children.

Keywords: Agamas, aggression, Brachypelma smithi, Calotes versicolor, Chlamydosaurus kingii, hyperactivity, hypersexuality, Lacerta agilis, lizards, Mygale lasiodora, reptiles
---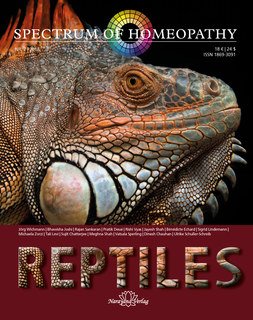 plus shipment:
2,90 EUR per Issue
Overview of this edition of spectrum homeopathy