CNS NEUROLOGICAL DISEASES - Spectrum of Homeopathy 03/2020
Sigrid Lindemann: A long path into life
The two cases in this article document the value of concomitant homeopathic treatment for congenital neurocutaneous illness with severe neurological symptoms. The case of the very rare illnes "hypomelanosis of Ito" concerns a child with restricted mental and physical development who gradually overcomes the deficit with the help of Cuprum aceticum alongside physiotherapy and occupational therapy. The second case presents a depressed young woman with epilepsy and Sturge-Weber syndrome in which treatment with Chininum sulphuricum has a positive effect on her psychosocial development. In both cases the path to the remedy is via a precise translation of the body language into the language of the repertory.
KEYWORDS: angiodysplasia, China, Chininum sulphuricum, Cuprum aceticum, developmental disorder, epilepsy, hypomelanosis, Ito syndrome, macrocephaly, naevus flammeus, neurocutaneous syndrome, neurology, phakomatosis, scoliosis, Strabismus, Sturge- Weber syndrome, Sulphur
Sigrid Lindemann: A long path into life

CNS NEUROLOGICAL DISEASES - Spectrum of Homeopathy 03/2020
Sigrid Lindemann: A long path into life

The two cases in this article document the value of concomitant homeopathic treatment for congenital neurocutaneous illness with severe neurological symptoms. The case of the very rare illnes "hypomelanosis of Ito" concerns a child with restricted mental and physical development who gradually overcomes the deficit with the help of Cuprum aceticum alongside physiotherapy and occupational therapy. The second case presents a depressed young woman with epilepsy and Sturge-Weber syndrome in which treatment with Chininum sulphuricum has a positive effect on her psychosocial development. In both cases the path to the remedy is via a precise translation of the body language into the language of the repertory.

KEYWORDS: angiodysplasia, China, Chininum sulphuricum, Cuprum aceticum, developmental disorder, epilepsy, hypomelanosis, Ito syndrome, macrocephaly, naevus flammeus, neurocutaneous syndrome, neurology, phakomatosis, scoliosis, Strabismus, Sturge- Weber syndrome, Sulphur
---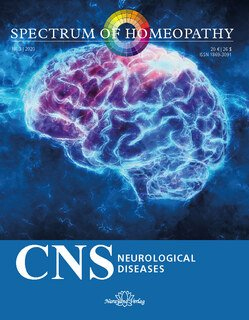 plus shipment:
2,90 EUR per issue
Overview of this edition of spectrum homeopathy