Miasms - Spectrum Of Homeopathy 03/2010
Rosina Sonnenschmidt: Scrofula
An attempt to understand the multi-faceted and enigmatic nature of scrofula and the ways of treating it miasmatically.
The largely forgotten illness of scrofula is related to tuberculosis and has its own place among the miasms, with a spectrum of specific homeopathic remedies used in its treatment. The healing logic of the organism and the complex healing process of scrofula in the direction of psora is shown theoretically and with a case history.
KEY CONCEPTS: healing process, miasm, psora, Schuessler, scrofula, sycosis, syphilis, tuberculosis, progress, fusion miasm
Rosina Sonnenschmidt: Scrofula

Miasms - Spectrum Of Homeopathy 03/2010
Rosina Sonnenschmidt: Scrofula

An attempt to understand the multi-faceted and enigmatic nature of scrofula and the ways of treating it miasmatically.

The largely forgotten illness of scrofula is related to tuberculosis and has its own place among the miasms, with a spectrum of specific homeopathic remedies used in its treatment. The healing logic of the organism and the complex healing process of scrofula in the direction of psora is shown theoretically and with a case history.

KEY CONCEPTS: healing process, miasm, psora, Schuessler, scrofula, sycosis, syphilis, tuberculosis, progress, fusion miasm
---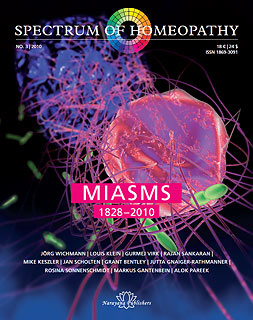 plus shipment:
2,90 EUR per Issue
Overview of this edition of spectrum homeopathy
Spectrum of Homeopathy