Genus epidemicus - Spectrum of Homeopathy 01/2021
Petr Simeon Gajdoš: When the haze doesn´t lift
In the author's practice Ozonum and Pestinum are most often used to treat patients suffering from the pandemic. With Ozonum it is principally the respiratory tract that is affected, with the feeling of not being able to inhale deeply and a fear of suffocating, whereas with Pestinum it is primarily the psychological and neurological effects of the viral infection with cognitive weakness, difficulty remembering and fear of mental exertion. Both remedies have also been used to treat those who are not infected but who are severely affected by the profound economic, social and psychological effects of the pandemic. A comprehensive case demonstrates typical symptoms of Ozonum and progress after the remedy was taken.

KEYWORDS: coronavirus, Covid-19, dementia, fear, Genius epidemicus, influenza, long Covid, Ozone, Pestinum, post-Covid syndrome, vaccination
Petr Simeon Gajdoš: When the haze doesn´t lift

Genus epidemicus - Spectrum of Homeopathy 01/2021
Petr Simeon Gajdoš: When the haze doesn´t lift

In the author's practice Ozonum and Pestinum are most often used to treat patients suffering from the pandemic. With Ozonum it is principally the respiratory tract that is affected, with the feeling of not being able to inhale deeply and a fear of suffocating, whereas with Pestinum it is primarily the psychological and neurological effects of the viral infection with cognitive weakness, difficulty remembering and fear of mental exertion. Both remedies have also been used to treat those who are not infected but who are severely affected by the profound economic, social and psychological effects of the pandemic. A comprehensive case demonstrates typical symptoms of Ozonum and progress after the remedy was taken.


KEYWORDS: coronavirus, Covid-19, dementia, fear, Genius epidemicus, influenza, long Covid, Ozone, Pestinum, post-Covid syndrome, vaccination
---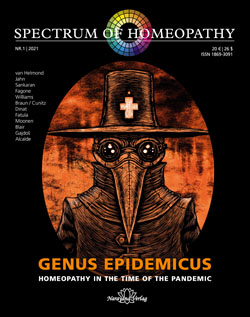 plus shipment:
2,90 EUR per issue
Overview of this edition of spectrum homeopathy