CNS NEUROLOGICAL DISEASES - Spectrum of Homeopathy 03/2020
Olga Fatula: The cry of the butterfly
A six-year-old with severe physical and mental developmental delay can neither talk nor do routine things, so he has little contact with those around him. With Lanthanum fluoricum he starts talking and makes rapid progress during the following year. When the improvement stalls, a change of remedy leads to a second developmental leap. The case shows the potential of homeopathic treatment for even the most severe multiple disturbances of the central nervous system.

KEYWORDS: ADHD, alalia, angiodystonia, autism, butterflies, caries, delayed growth, developmental disorder, Lanthanum fluoricum, neurology, Polyommatus icarus, strabismus
Olga Fatula: The cry of the butterfly

CNS NEUROLOGICAL DISEASES - Spectrum of Homeopathy 03/2020
Olga Fatula: The cry of the butterfly

A six-year-old with severe physical and mental developmental delay can neither talk nor do routine things, so he has little contact with those around him. With Lanthanum fluoricum he starts talking and makes rapid progress during the following year. When the improvement stalls, a change of remedy leads to a second developmental leap. The case shows the potential of homeopathic treatment for even the most severe multiple disturbances of the central nervous system.


KEYWORDS: ADHD, alalia, angiodystonia, autism, butterflies, caries, delayed growth, developmental disorder, Lanthanum fluoricum, neurology, Polyommatus icarus, strabismus
---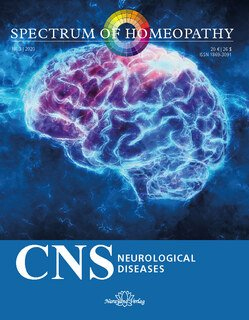 plus shipment:
2,90 EUR per issue
Overview of this edition of spectrum homeopathy