Genus epidemicus - Spectrum of Homeopathy 01/2021
Olga Fatula: Post-Covid and the second wave
For the treatment of Covid-19 in Russia, the author's group has found Artemisia abrotanum especially useful. The case histories also show the significance of further remedies from the order Asterales and other remedy groups. In the second wave, snake remedies have been prominent in the treatment of serious cases. These are also frequently indicated for post-Covid syndrome. A homeopathic corona emergency kit with the most important epidemic remedies can help patients to rapidly administer remedies.

KEYWORDS: Abrotanum, anosmia, Antimonium arsenicosum, Artemisia, Asterales, Bothrops lanceolatus, Camphora, Chininum arsenicosum, coronavirus, Covid-19, emergency remedy kit, fever, Galleria mellonella, genus epidemicus, Grindelia, Kalium cyanatum, Lanthanides, plant code, Plutonium nitricum, post-covid, snakes, stage 15, Staphylinus caesareus, Thulium arsenicosum, Tuberculinum
Olga Fatula: Post-Covid and the second wave

Genus epidemicus - Spectrum of Homeopathy 01/2021
Olga Fatula: Post-Covid and the second wave

For the treatment of Covid-19 in Russia, the author's group has found Artemisia abrotanum especially useful. The case histories also show the significance of further remedies from the order Asterales and other remedy groups. In the second wave, snake remedies have been prominent in the treatment of serious cases. These are also frequently indicated for post-Covid syndrome. A homeopathic corona emergency kit with the most important epidemic remedies can help patients to rapidly administer remedies.


KEYWORDS: Abrotanum, anosmia, Antimonium arsenicosum, Artemisia, Asterales, Bothrops lanceolatus, Camphora, Chininum arsenicosum, coronavirus, Covid-19, emergency remedy kit, fever, Galleria mellonella, genus epidemicus, Grindelia, Kalium cyanatum, Lanthanides, plant code, Plutonium nitricum, post-covid, snakes, stage 15, Staphylinus caesareus, Thulium arsenicosum, Tuberculinum
---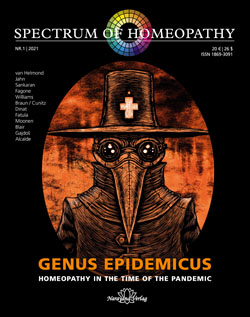 plus shipment:
2,90 EUR per issue
Overview of this edition of spectrum homeopathy