Genus epidemicus - Spectrum of Homeopathy 01/2021
Natalya Dinat and Fiona Anderson: I can´t breathe
After exponential growth was avoided by an earlier lockdown, South Africa has since been hit by a severe wave of the pandemic. A series of short cases illustrate homeopathic practice in the treatment of Covid-19 in this country. The unpredictable course of the disease necessitates flexible prescribing, with a positive patient reaction expected within a few hours and significant improvement within one to two days. In one case the path to healing led via several intermediate steps to the South African plant Artemisia afra.

KEYWORDS: Abrotanum, Aconitum, Ammonium carbonicum, Arnica, Artemisia afra, Bryonia, Camphora, Carbo vegetabilis, constitutional remedy, coronavirus, Corvus corax, Covid-19, Cryptococcus neoformans, genus epidemicus, hypoxia, Iberis amara, Ozonum, Phosphorus, Pyrogenium, pulmonary embolism, South Africa, Sulphur, Tuberculinum bovinum
Natalya Dinat and Fiona Anderson: I can´t breathe

Genus epidemicus - Spectrum of Homeopathy 01/2021
Natalya Dinat and Fiona Anderson: I can´t breathe

After exponential growth was avoided by an earlier lockdown, South Africa has since been hit by a severe wave of the pandemic. A series of short cases illustrate homeopathic practice in the treatment of Covid-19 in this country. The unpredictable course of the disease necessitates flexible prescribing, with a positive patient reaction expected within a few hours and significant improvement within one to two days. In one case the path to healing led via several intermediate steps to the South African plant Artemisia afra.


KEYWORDS: Abrotanum, Aconitum, Ammonium carbonicum, Arnica, Artemisia afra, Bryonia, Camphora, Carbo vegetabilis, constitutional remedy, coronavirus, Corvus corax, Covid-19, Cryptococcus neoformans, genus epidemicus, hypoxia, Iberis amara, Ozonum, Phosphorus, Pyrogenium, pulmonary embolism, South Africa, Sulphur, Tuberculinum bovinum
---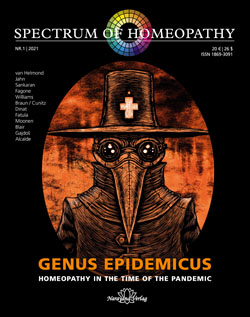 plus shipment:
2,90 EUR per issue
Overview of this edition of spectrum homeopathy