Gold Series - Spectrum of Homeopathy 01/2018
Markus Kuntosch: Giants and dwarves
After illustrating Caesium in stage 1 of the Gold series with the example of a naive do-gooder, the author moves on to present the better-known Barium with case studies of various salts. The small spidery handwriting of the Barium patient corresponds to the attitude of a dwarf among giants, who is developing slowly and would like to just hide due to feelings of uncertainty and inferiority. Barium phosphoricum is the typical late bloomer; we should consider Barium sulphuricum not just for patients suffering from dementia but also for those who take care of them.
Keywords: Barium, Barium fluoricum, Barium phosphoricum, Barium sulphuricum, cerebral haemorrhage, Caesium, Caesium muriaticum, colour selection, delayed development, dementia, Gold series, Haliaeetus leucocephalus, handwriting, learning disorder, miscarriage, urinary infection
Markus Kuntosch: Giants and dwarves

Gold Series - Spectrum of Homeopathy 01/2018
Markus Kuntosch: Giants and dwarves

After illustrating Caesium in stage 1 of the Gold series with the example of a naive do-gooder, the author moves on to present the better-known Barium with case studies of various salts. The small spidery handwriting of the Barium patient corresponds to the attitude of a dwarf among giants, who is developing slowly and would like to just hide due to feelings of uncertainty and inferiority. Barium phosphoricum is the typical late bloomer; we should consider Barium sulphuricum not just for patients suffering from dementia but also for those who take care of them.

Keywords: Barium, Barium fluoricum, Barium phosphoricum, Barium sulphuricum, cerebral haemorrhage, Caesium, Caesium muriaticum, colour selection, delayed development, dementia, Gold series, Haliaeetus leucocephalus, handwriting, learning disorder, miscarriage, urinary infection
---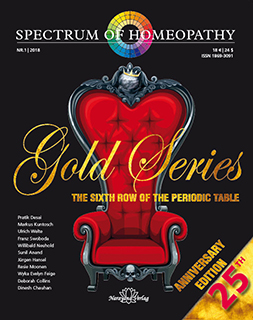 plus shipment:
2,90 EUR per Issue
Overview of this edition of spectrum homeopathy
Spectrum of Homeopathy