Genus epidemicus - Spectrum of Homeopathy 01/2021
Marina Braun and Petra Cunitz: In an airless box
In these cases describing the acute homeopathic treatment of corona patients in a New York hotspot, Jeremy Sherr's method is used, with differing remedies of the genus epidemicus for varying stages of Covid-19, according to whichever is most strongly indicated. Adamas proves to be a good alternative to Bryonia and Spigelia for deep-seated, incessant and excruciating cough, assuming severe and piercing headache is also a prominent symptom. A rabbi recovers quickly with Tuberculinum aviare from the after-effects of many weeks of artificial respiration.

KEWORDS: Aconitum, Adamas, Antimonium tartaricum, Bryonia, Camphora, coronavirus, Covid-19, Gelsemium, genus epidemicus, Phosphoricum acidum, Phosphorus, Sambucus, Spigelia, Stannum, Tuberculinum, Tuberculinum aviare
Marina Braun and Petra Cunitz: In an airless box

Genus epidemicus - Spectrum of Homeopathy 01/2021
Marina Braun and Petra Cunitz: In an airless box

In these cases describing the acute homeopathic treatment of corona patients in a New York hotspot, Jeremy Sherr's method is used, with differing remedies of the genus epidemicus for varying stages of Covid-19, according to whichever is most strongly indicated. Adamas proves to be a good alternative to Bryonia and Spigelia for deep-seated, incessant and excruciating cough, assuming severe and piercing headache is also a prominent symptom. A rabbi recovers quickly with Tuberculinum aviare from the after-effects of many weeks of artificial respiration.


KEWORDS: Aconitum, Adamas, Antimonium tartaricum, Bryonia, Camphora, coronavirus, Covid-19, Gelsemium, genus epidemicus, Phosphoricum acidum, Phosphorus, Sambucus, Spigelia, Stannum, Tuberculinum, Tuberculinum aviare
---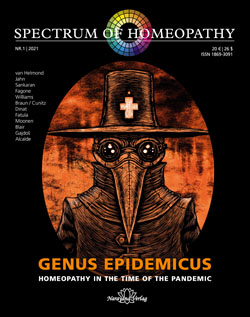 plus shipment:
2,90 EUR per issue
Overview of this edition of spectrum homeopathy