CNS NEUROLOGICAL DISEASES - Spectrum of Homeopathy 03/2020
Karim Adal: Four generations
A patient with severe MS describes her illness in martial vocabulary as an act of destruction, as if a "pit bull has ripped away half my brain". She repeatedly experienced such aggression from her unpredictable mother, who was herself similarly traumatised. The patient's constant state of alarm, the experiences, images and nightmares of explosions of violence, war and destruction, as well as her numerous fears lead to the nightshade remedy
family. Homeopathic treatment with Capsicum helps the patient to break the trans-generational spell of violence and trauma in her family. Just as the sensation returns to her numb limbs, she gradually returns to normal life.
KEYWORDS: autoimmune disease, Capsicum, family history, migraine, multiple sclerosis, neurology, paraesthesia, sensation method, Solanaceae
Karim Adal: Four generations

CNS NEUROLOGICAL DISEASES - Spectrum of Homeopathy 03/2020
Karim Adal: Four generations

A patient with severe MS describes her illness in martial vocabulary as an act of destruction, as if a "pit bull has ripped away half my brain". She repeatedly experienced such aggression from her unpredictable mother, who was herself similarly traumatised. The patient's constant state of alarm, the experiences, images and nightmares of explosions of violence, war and destruction, as well as her numerous fears lead to the nightshade remedy
family. Homeopathic treatment with Capsicum helps the patient to break the trans-generational spell of violence and trauma in her family. Just as the sensation returns to her numb limbs, she gradually returns to normal life.

KEYWORDS: autoimmune disease, Capsicum, family history, migraine, multiple sclerosis, neurology, paraesthesia, sensation method, Solanaceae
---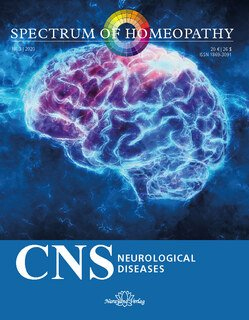 plus shipment:
2,90 EUR per issue
Overview of this edition of spectrum homeopathy