CNS NEUROLOGICAL DISEASES - Spectrum of Homeopathy 03/2020
Hans Eberle and Friedrich Ritzer: Tears in the net
In six remedy provings of various fungi remedies, sometimes severe brain disorders arose, reminiscent of dementia. As the cases show, the clinical indications for the use of these remedies include dementia as well as injuries and infections of the central nervous system (CNS). In the remedy pictures there are similarities to the Actinides.

KEYWORDS: Actinides, Agaricus campestris, Boletus edulis, brain injury, brain power, Cantharellus cibarius, Cordyceps sinensis, cytomegaloviral disease, dementia, fungi, Leccinum testaceoscabrum, Macrolepiota procera, muscle weakness, neurology, plant code, ringworm, stages
Hans Eberle and Friedrich Ritzer: Tears in the net

CNS NEUROLOGICAL DISEASES - Spectrum of Homeopathy 03/2020
Hans Eberle and Friedrich Ritzer: Tears in the net

In six remedy provings of various fungi remedies, sometimes severe brain disorders arose, reminiscent of dementia. As the cases show, the clinical indications for the use of these remedies include dementia as well as injuries and infections of the central nervous system (CNS). In the remedy pictures there are similarities to the Actinides.


KEYWORDS: Actinides, Agaricus campestris, Boletus edulis, brain injury, brain power, Cantharellus cibarius, Cordyceps sinensis, cytomegaloviral disease, dementia, fungi, Leccinum testaceoscabrum, Macrolepiota procera, muscle weakness, neurology, plant code, ringworm, stages
---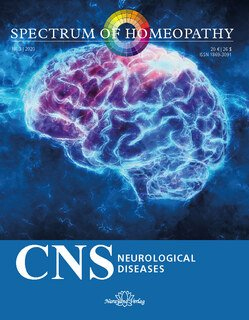 plus shipment:
2,90 EUR per issue
Overview of this edition of spectrum homeopathy