Gold Series - Spectrum of Homeopathy 01/2018
Franz Swoboda: A powerful white stag
An unusual remedy proving symptom in a patient with chronic vaginal mycosis hints at Tungsten. In the patient's personality and her dreams there are correlations with stage 6 of the Gold series. Due to the strong emphasis on the mother theme, the chlorine salt of Tungsten is chosen. The author reveals his initial doubt about this prescription and discusses the differential diagnosis to Natrium muriaticum and the Lanthanides.
Keywords: Gold series, herpes labialis, Lanthanides, Natrum muriaticum, Tungsten, Tungsten muriaticum, vaginal discharge, vaginal mycosis, vaginitis, Wolfram
Franz Swoboda: A powerful white stag

Gold Series - Spectrum of Homeopathy 01/2018
Franz Swoboda: A powerful white stag

An unusual remedy proving symptom in a patient with chronic vaginal mycosis hints at Tungsten. In the patient's personality and her dreams there are correlations with stage 6 of the Gold series. Due to the strong emphasis on the mother theme, the chlorine salt of Tungsten is chosen. The author reveals his initial doubt about this prescription and discusses the differential diagnosis to Natrium muriaticum and the Lanthanides.

Keywords: Gold series, herpes labialis, Lanthanides, Natrum muriaticum, Tungsten, Tungsten muriaticum, vaginal discharge, vaginal mycosis, vaginitis, Wolfram
---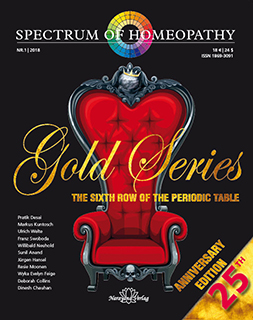 plus shipment:
2,90 EUR per Issue
Overview of this edition of spectrum homeopathy