Cancer - Spectrum of Homeopathy 02/2014
Dietmar Payrhuber: Elements Of Cancer Treatment
The psychosomatic context of cancer and the outstanding significance of mental and constitutional symptoms.
Using four examples, the author demonstrates the key importance of the central conflicts in a person's life as well as psychological trauma in the emergence and constitutional treatment of malignant disease. He describes the choice of remedy using Scholten's group analysis and shows the course of healing in severe cases of cancer.
Key concepts: Acidum nitricum, Arsenicum album, Calcium muriaticum, cancer, constitution, Ferrum iodatum, Ferrum silicatum, group analysis, life conflicts, leukemia, lymphoma, mammary carcinoma, non- Hodgkin lymphoma, psychosomatic, Scholten, stomach carcinoma
Dietmar Payrhuber: Elements Of Cancer Treatment

Cancer - Spectrum of Homeopathy 02/2014
Dietmar Payrhuber: Elements Of Cancer Treatment

The psychosomatic context of cancer and the outstanding significance of mental and constitutional symptoms.

Using four examples, the author demonstrates the key importance of the central conflicts in a person's life as well as psychological trauma in the emergence and constitutional treatment of malignant disease. He describes the choice of remedy using Scholten's group analysis and shows the course of healing in severe cases of cancer.

Key concepts: Acidum nitricum, Arsenicum album, Calcium muriaticum, cancer, constitution, Ferrum iodatum, Ferrum silicatum, group analysis, life conflicts, leukemia, lymphoma, mammary carcinoma, non- Hodgkin lymphoma, psychosomatic, Scholten, stomach carcinoma
---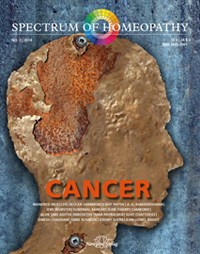 plus shipment:
2,90 EUR per Issue
Overview of this edition of spectrum homeopathy