Cancer - Spectrum of Homeopathy 02/2014
Declan Hammond: Healing And Transformation
Homeopathic care through the seven stages of healing.
The focus of this contribution is the care of cancer patients, which requires a high degree of flexibility, both in homeopathic and human terms, and must always be adapted to the stage in which patients currently find themselves. Together with the basic principles of homeopathic cancer treatment, the article discusses the co-operation of allopathy with complementary lifestyle measures, as well as common support measures of a psychological and spiritual nature. A case using homeopathy as sole treatment beautifully illustrated the author's recommendations.
Key concepts: cancer, chemotherapy, lifestyle, personality, radiotherapy, stages of dying, treatment protocol
Declan Hammond: Healing And Transformation

Cancer - Spectrum of Homeopathy 02/2014
Declan Hammond: Healing And Transformation

Homeopathic care through the seven stages of healing.

The focus of this contribution is the care of cancer patients, which requires a high degree of flexibility, both in homeopathic and human terms, and must always be adapted to the stage in which patients currently find themselves. Together with the basic principles of homeopathic cancer treatment, the article discusses the co-operation of allopathy with complementary lifestyle measures, as well as common support measures of a psychological and spiritual nature. A case using homeopathy as sole treatment beautifully illustrated the author's recommendations.

Key concepts: cancer, chemotherapy, lifestyle, personality, radiotherapy, stages of dying, treatment protocol
---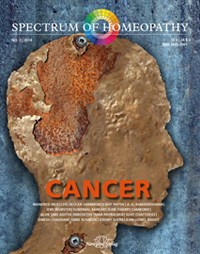 plus shipment:
2,90 EUR per Issue
Overview of this edition of spectrum homeopathy