CNS NEUROLOGICAL DISEASES - Spectrum of Homeopathy 03/2020
Bob Blair: Power and destructiveness
Due to progressive polyneuropathy, a professor despairs over his chances of recovery. He describes his mental state as excruciating torture and expresses suicidal thoughts. The clear syphilitic miasm in a neurodegenerative illness, together with his concomitant abdominal colic, the typical modalities, melancholy and the inability to tolerate restrictions, leads to Plumbum metallicum. The destructiveness of the syphilitic miasm corresponds in the author's developmental model to the dynamic of fire. Using this model, the fire energy and its connection to the classification of the materia medica is described at length in the second half of the article. This developmental model enables reliable comparison between the natural kingdoms.

KEYWORDS: colic, Cordyceps sinensis, Fire energy, fungi, heavy metal poisoning, Lanthanide, miasm, migraine, neurology, paraesthesia, Plumbum, polyneuropathy, sensation method, Syphilinum
Bob Blair: Power and destructiveness

CNS NEUROLOGICAL DISEASES - Spectrum of Homeopathy 03/2020
Bob Blair: Power and destructiveness

Due to progressive polyneuropathy, a professor despairs over his chances of recovery. He describes his mental state as excruciating torture and expresses suicidal thoughts. The clear syphilitic miasm in a neurodegenerative illness, together with his concomitant abdominal colic, the typical modalities, melancholy and the inability to tolerate restrictions, leads to Plumbum metallicum. The destructiveness of the syphilitic miasm corresponds in the author's developmental model to the dynamic of fire. Using this model, the fire energy and its connection to the classification of the materia medica is described at length in the second half of the article. This developmental model enables reliable comparison between the natural kingdoms.


KEYWORDS: colic, Cordyceps sinensis, Fire energy, fungi, heavy metal poisoning, Lanthanide, miasm, migraine, neurology, paraesthesia, Plumbum, polyneuropathy, sensation method, Syphilinum
---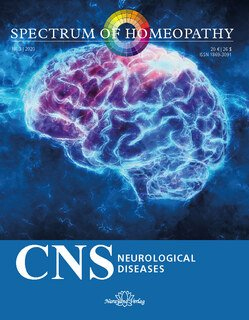 plus shipment:
2,90 EUR per issue
Overview of this edition of spectrum homeopathy