Genus epidemicus - Spectrum of Homeopathy 01/2021
Bob Blair: Behind the translucent glass screen
Looking at the overall pattern of the current pandemic in terms of the chronic decay and imminent collapse of many ecosystems on our planet, we can recognise clear signs of the AIDS miasm. Together with other remedies from this miasm such as Ozone or Radon, the pathogenic fungus Cryptococcus neoformans should be considered an epidemic remedy for SARS-CoV-2 infection. The heterogeneous symptoms of cryptococcosis are astonishingly similar to the multifarious picture of severe Covid-19. Extracts from an unpublished proving show the symptoms and themes of the fungus.

KEYWORDS: AIDS, coagulopathy, coronavirus, Covid-19, cryptococcosis, Cryptococcus neoformans, encephalopathy, fungi, Gaia, genus epidemicus, lung failure, miasm, Ozone, Radon
Bob Blair: Behind the translucent glass screen

Genus epidemicus - Spectrum of Homeopathy 01/2021
Bob Blair: Behind the translucent glass screen

Looking at the overall pattern of the current pandemic in terms of the chronic decay and imminent collapse of many ecosystems on our planet, we can recognise clear signs of the AIDS miasm. Together with other remedies from this miasm such as Ozone or Radon, the pathogenic fungus Cryptococcus neoformans should be considered an epidemic remedy for SARS-CoV-2 infection. The heterogeneous symptoms of cryptococcosis are astonishingly similar to the multifarious picture of severe Covid-19. Extracts from an unpublished proving show the symptoms and themes of the fungus.


KEYWORDS: AIDS, coagulopathy, coronavirus, Covid-19, cryptococcosis, Cryptococcus neoformans, encephalopathy, fungi, Gaia, genus epidemicus, lung failure, miasm, Ozone, Radon
---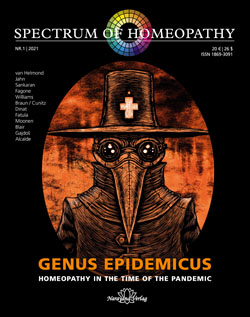 plus shipment:
2,90 EUR per issue
Overview of this edition of spectrum homeopathy