Reptiles - Spectrum of Homeopathy 02/2018
Bhawisha Joshi: Inside the reptilian soul
The common characteristics of homeopathic remedies from the subclass of the reptiles are presented here in terms of similarities to the biology of this group of animals. Key traits such as temperature regulation, sensory perception, food intake, hunting behaviour, camouflage, care of the young etc. are reflected in the symptoms of the remedies of this group. We have most experience in this area with the wellproved snake poisons. The characteristics of the other homeopathically relevant groups – lizards, crocodiles, and turtles – are also sketched. A case of the poison of the King cobra illustrates the practical application of Joshi's MAP and the taxonomy of the animal kingdom.
Keywords: allergy, crocodile, Elapidae, Joshi's MAP, King cobra, levels, lizards, Ophiophagus hannah, reptiles, rhinitis, snakes, turtles
Bhawisha Joshi: Inside the reptilian soul

Reptiles - Spectrum of Homeopathy 02/2018
Bhawisha Joshi: Inside the reptilian soul

The common characteristics of homeopathic remedies from the subclass of the reptiles are presented here in terms of similarities to the biology of this group of animals. Key traits such as temperature regulation, sensory perception, food intake, hunting behaviour, camouflage, care of the young etc. are reflected in the symptoms of the remedies of this group. We have most experience in this area with the wellproved snake poisons. The characteristics of the other homeopathically relevant groups – lizards, crocodiles, and turtles – are also sketched. A case of the poison of the King cobra illustrates the practical application of Joshi's MAP and the taxonomy of the animal kingdom.

Keywords: allergy, crocodile, Elapidae, Joshi's MAP, King cobra, levels, lizards, Ophiophagus hannah, reptiles, rhinitis, snakes, turtles
---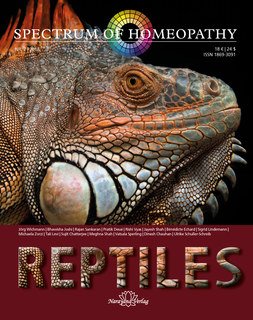 plus shipment:
2,90 EUR per Issue
Overview of this edition of spectrum homeopathy